VAT rate cut information design in Muswell Hill
We are approaching the end of December, and will soon be getting retail figures that will prove whether the Government's emergency VAT rate cut sparked a last minute Xmas shopping spree, or whether retailer's doom and gloom about the Christmas period was warranted.
I have painful memories from back in the 1990s of having to re-price every single item in Note For Note, a record store in Walthamstow, due to a VAT rate increase. With no computerised till or stock control, it meant walking around the store with an old-fashioned price gun and a calculator, physically dealing with every CD, tape or record.
I thought it might be interesting to walk down one retail area, Muswell Hill Broadway, and see the different ways that shops have implemented the VAT cut, and, more importantly, informed their customers about what they have done.
Thank you, Darling
Several shops have signs in their outside window to promote the fact that they are passing on the price cut, and quite a few of them make an attempt at humour. Holland and Barrett are using a well-worn Blackadder-style joke on the Chancellor's name to promote their price cuts.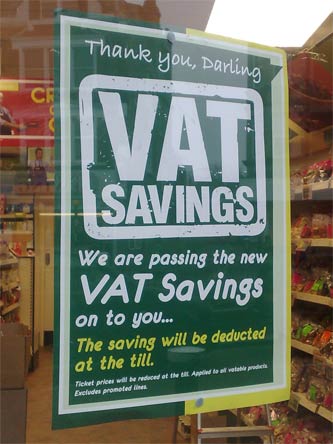 By order of H.M. Customs & Excise
Another store that has gone for a 'humour' angle is the Crocodile Antiques and Cafe shop. This has several signs in the window pretending to be royal decrees over the VAT rate change.
"By Order of H M Customs & Excise a special VAT discount of 2.5% off all prices will be applied at the till from today!"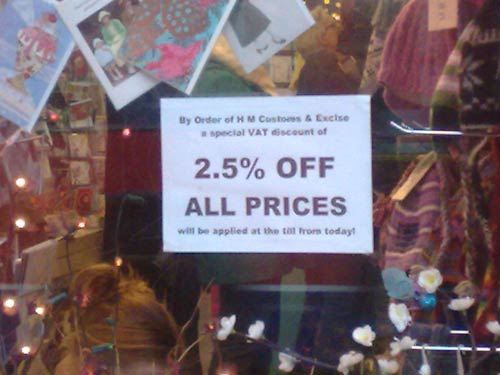 They may not have quite got their maths correct however...
Blanket 5%
A lot of the press and media coverage implied that a 2.5% reduction in VAT meant a 2.5% reduction in price, which isn't actually the case. [1]
Some stores seem to have got fed up doing the micro-calculations to adjust each item by the correct amount. 'Diva Art' in Muswell Hill has just applied a blanket 5% discount on everything in store.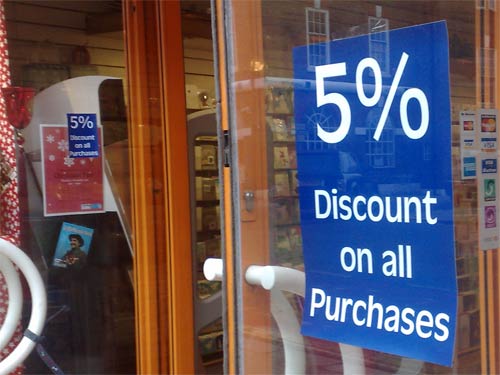 Beauty salon Hair Waves have also opted for a blanket discount, or just didn't understand what the rate of VAT was in the first place. The sign in their window states that:
"Beauty retail VAT discount. Dermalogica, Jessica, Esste and St Tropez reduced by 5% from 1st December 2008"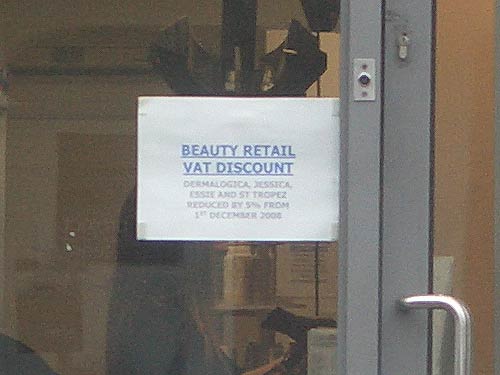 The charity angle
Clothes shop White Stuff had a totally different approach.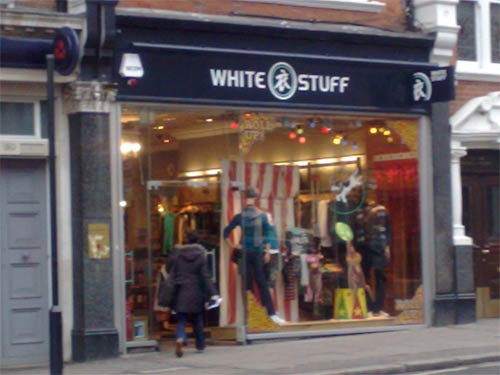 The Muswell Hill branch has a sign up at the till saying that they will not be adjusting their ticket prices to take account of the VAT rate change until the New Year.
However, in the meantime, they will be donating 2.5% of December's takings to charity, hoping in this way to raise £100,000.
"Thanks Darling! We're giving it to charity"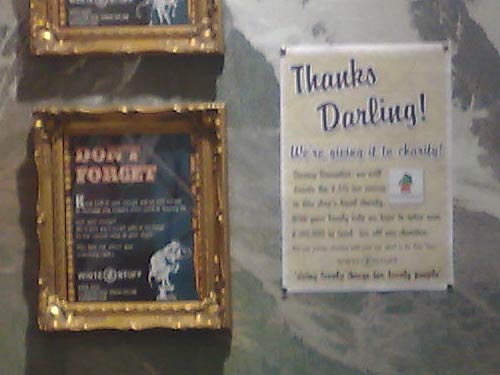 Caffè Nero 'inconvenience'
Perhaps the strangest sign was the one in my local branch of Caffè Nero. All of their price boards had been adjusted to the new lower prices, but they had a sign saying that the electric till system had yet to be altered. That meant that although they seemed to be displaying new lower prices, they were still charging prices with 17.5% VAT added. The sign apologised for any 'inconvenience'. By 'inconvenience', I think they may have actually meant 'over-charging'.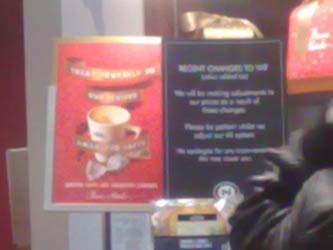 [1] VAT is added to the retail price, so at 17.5% VAT a £10 item became £11.75. With the new lower rate, the item should now be £11.50. That is a saving of 25p, but not a saving of 2.5% on the previous shelf price of £11.75 [Return to article]