The evil of searching for 'Gary Glitter'
Personally I remain unconvinced of the power of 70's music to reach out through time and corrupt the youth of today via the medium of guidance notes for exams, but that hasn't stopped the Gary Glitter GCSE 'scandal' being one of the main media storms of the day.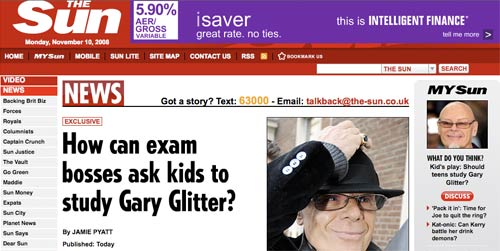 For me perhaps the most unintentionally funny bit of it is the quote from the anonymous headmaster in The Sun about his fears when teenagers go online:
"He's a convicted paedophile jailed for sexually abusing kids. It's completely inappropriate to recommend him as listening material. Boys and girls of 15 or 16 who select this song will go straight to the internet to find Glitter's music. I dread to think what they may find searching online for him."
Leaving aside whether 'Gary Glitter' is the most disturbing search term that a 16 year old boy can think of to plug into Google, if you search for 'Gary Glitter' today the results you get include...none other than The Sun advertising their GCSE story!
"Gary Glitter latest - Exam bosses ask kids to study pop perv's music for GCSE's"