The BBC News linking policy is simply clumsy, not 'greedy'
In a post over at Blogstorm, Patrick Altoft has rather dramatically accused the BBC News website of an 'outrageous act of selfishness and greed' with the way that they link externally.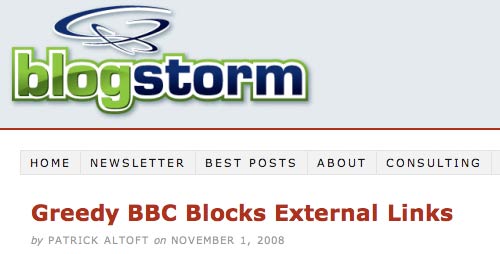 Essentially, he's noticed that now BBC News links pass through what used to be known internally at the BBC as the 'Go tracking system'. When a user clicks on an external link, the request first goes to a BBC URL starting www.bbc.co.uk/go/ and then onto the destination site. Blogstorm argues that this prevents Google from indexing the link as a direct one from bbc.co.uk, and so none of the precious 'Google linkjuice' gets passed from the BBC site to the external one.
I thought this was an interesting illustration of 'you are what you measure'.
The BBC originally introduced the 'go' method as a crude system of providing link tracking internally. For reasons too long and complex to go into here, in the early 2000s, bbc.co.uk didn't have a unified web metrics package that could do internal link tracking with any degree of speed or reliability. By tagging links to internal BBC sites with the 'go' prefix, editors could get an idea of what clickthroughs were being made from the BBC homepage and other key index pages. And of course it could be implemented with Perl and Apache, so it was easy to get BBC Technology Siemens to agree to implement it.
When the Graf review took place in 2004, he was sharply critical of the lack of traffic that the BBC was sending to other British websites. As a result the BBC was instructed to measure how much traffic was sent downstream from bbc.co.uk to elsewhere on the web. Again, because of the lack of a unifying metrics solution, and the haste with which the BBC's governing bodies wanted the data collected, the simplest, cheapest and quickest solution at the time was to allow the '/go/' redirect method to also pass on external links. This didn't apply to all areas of the site - including those from BBC News.
The Blogstorm post - which itself uses 'nofollow' so as not to pass on any link juice to those who leave comments - picks up on a change in the system, and says that:
"I can't understand why the BBC would want to do this. They could track clicks on the links easily without using a redirect and all the links are editorially granted so there is no risk of them linking to a spam site by accident. How is Google supposed to run a link based algorithm if the most trusted sites stop linking to anybody?"
The BBC has never, as far as I'm aware, been formally asked to measure how much PageRank it passes on to the web at large.

When the BBC Trust reported about the BBC's external linking earlier in the year, their sole concern was volume of traffic, not level of search engine influence.
"We are disappointed to see that bbc.co.uk's linking is not leading to more click-throughs. While BBC management's submission to this review states that there were 6.7 million click-throughs to external sites in July 2007, this is a global figure, with 4.6 million click throughs originated in the UK"
If you look at the problem from the other end of the telescope, there could in fact be a case made for the BBC applying 'nofollow' to their external links in order to ensure a level playing field.
If BBC News carries a story about Internet security or yet more Government data loss, and links to a computer security advisory firm, then that link may provide them some traffic, but the effect of placing it there is confined to that page. If, however, the BBC was passing on their valuable PageRank with that link, then they would be giving one company a 'leg up' on Google at the expense of their competitors - effectively state-funded meddling with the natural linking ecosystem of the web.
If you needed any more evidence that this was all the result of regulatory ignorance rather than a willful SEO related policy, you need only search Google for 'site:bbc.co.uk/go'. You'll find plenty of evidence of the BBC carefully scuppering their own internal link structure and PageRank profile for the sake of measuring a few clickthroughs.