I wouldn't be voting for this as my interaction of the year

by
Martin Belam
, 9 November 2008
If you are going to produce a celebratory issue with lots of charts and lists of the 'the best of they year', then now is the time to get the punters voting for what to put in the list. Last week I was prompted to vote in Q's poll on the best album of the year. [1]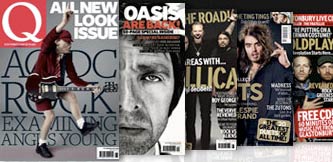 I'm always astonished at the things that seem to go live on the web without having had any serious QA or testing on them. Q's initial approach to the voting form was in tune with their brand, complete with the plea:
"Please take the trouble to spell them correctly because it will make our lives so much easier when we come to count them up!"

I popped my name and address into the form, entered my choices, ticked the 'Terms and Conditions' box without reading them - as always - and hit submit.

And what I got back was this...

Firstly, there isn't anything on the initial form to indicate which fields are mandatory or not. Secondly, the error message appears to be completely generic for the underlying competition application. There is no Q branding, and the Perl script indicates what is missing by using the variable name from the HTML form, rather than a user-friendly label. Of course, in this example, I can guess from the value 'Address3' that I had to make up an extra line on my postal address in order to submit my choice, but it isn't exactly the best voting user experience ever - the error page isn't even displayed on the same domain as the site I was voting on.
Still, we all know there was only ever one end of year chart that counted - John Peel's Festive Fifty.


[1] For the record I voted for Goldfrapp's 'Seventh Tree' as album of the year, and Brian Eno & David Byrne's 'Strange overtones' as track of the year, although I was very tempted to vote for something by The Last Shadow Puppets, The Gutter Twins, Tapes 'n Tapes or a track from 'Imperial Wax Solvent' [Return to article]