"You've lost your place in the queue" - the battle to buy Depeche Mode tickets from Ticketmaster

by
Martin Belam
, 10 October 2008
This week Depeche Mode announced what Fletch said was their "rather modestly titled" Tour Of The Universe. It gave me an opportunity to have yet another truly diabolical user experience with Ticketmaster.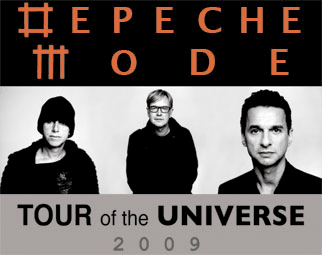 I got an email alert from Live Nation that the tickets for the London gig were going on 'pre-sale' at 9am on Thursday morning. In order to be able to buy tickets you needed to register with the Live Nation site.

Naturally, I did that, and come five minutes past nine yesterday I was starting to try and get tickets. I logged in to Live Nation, and clicked the pre-sale link. This took me to the Ticketmaster page for the event and logged me out at the same time without telling me.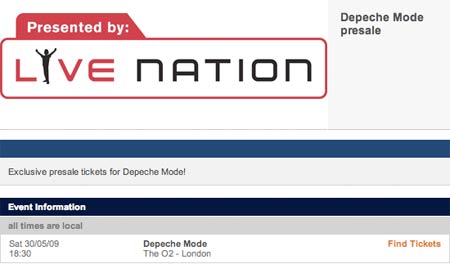 I selected the tickets, and then the fun and games began. Once I eventually realised that I had to log in to Ticketmaster as a separate registration from the Live Nation credentials I had already provided, I couldn't remember the password for my ancient account. So I asked for a password reminder.
Now, Ticketmaster go out of their way to make the ticket purchase processing as nerve-racking as possible, by providing a minimum time to complete each step of the transaction.
By the time they had actually sent me a password reminder, I had "lost my place in the queue", and had to start the transaction from scratch...
So, having selected tickets for the second time, I got to the payment section. Ticketmaster have some previous details for my card. The expiry date is wrong, and the billing address is wrong.
They offer two options - to add a new card, or to edit the details of an existing card. Trying to add a new card with the same primary number just to change the expiry date caused an error. But, when you try to edit the details of the card, it doesn't seem possible to get the system to accept any updated details.
I carefully edited and re-edited every field on the details - to no avail. All I got was the error message "There was an error with your submission". I'm not sure they could be any more vague about what was wrong, and above it was the ever-dwindling countdown until my tickets were 'released' back for other people to buy.

Aside from the constant countdown, the site keeps asking you repeated captcha tests. This screenshot might give you an idea of just how many tests I had to pass during the process of this transaction.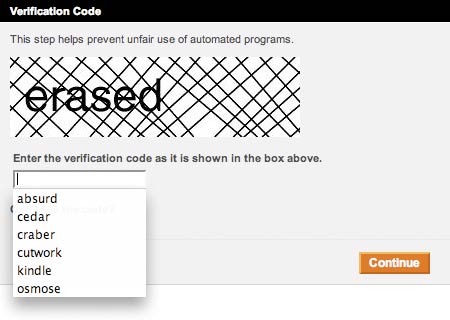 In the end, the only way I could complete the sale was to log out completely of the site, start from the Ticketmaster homepage, go into the account management section and edit my details there. That worked fine, with none of the problems the site exhibited when you tried to update your details mid-sale.
I finally got our tickets at the fourth attempt, having progressively moved from getting standing tickets to being up in the gods at the O2 Arena. As my wife wryly observed, at least we'll be able to hear them.
Still this was a marginal improvement on the last time I tried to buy tickets from them a couple of months ago. Then I was on dial-up in Greece, and often the 2 minute time limit to complete the details on a page had expired before the page had actually downloaded. That time a similar inability to edit my details meant I ended up just getting my wife to set up a new account and buy the tickets for me.
I first saw Depeche Mode on their 'For The Masses' tour in 1988 at Wembley Arena, when I was supposed to be revising for my mock GCSEs. It is always a risk buying tickets for a tour before a new album has been released from a band at this stage in their career. At the minute I've got no way of knowing whether the gig will be fantastic like the one we enjoyed in Milan on their last tour, or whether the album is going to be a dud of 'Exciter' style proportions. A clip from a couple of new tracks has already surfaced on YouTube, subsequently pulled down following an EMI Music copyright infringement complaint. So, fingers crossed...