Will The Telegraph's tie-up with eMusic expose the staff's guilty pleasures?
I noticed a couple of weeks back that The Telegraph has a special promotion, where they have joined forces with eMusic to give away free downloads to readers.

What struck me as really interesting is the way that they are selling the idea that you can see and follow the music taste of Telegraph writers and editors, as well as contribute to a Telegraph 'chart'.

Since eMusic is a social download platform, member's networks can build into an interesting blend of mixing genuine friends with contacts, colleagues, and strangers who just happen to buy the newspaper that you work for. For those Telegraph staffers who have joined the service specifically as part of this promotion, they can obviously pick and choose what they buy and download, knowing that it is being shared with the readership. And it isn't just the music writers involved either - people like Erin Baker, the Motoring Commissioning Editor, now have their download habits on display.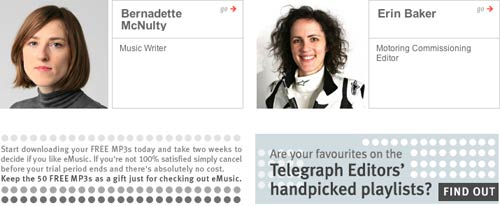 For someone like Shane Richmond, however, the situation is different. His profile indicates that he has been a member for a couple of years already, so linking up to him via The Telegraph promotion might expose any number of guilty pleasures he bought in 2006, not knowing that they would later be the public property of The Telegraph's audience. He doesn't seem too bothered mind you, and blogged enthusiastically about the partnership. With good reason - eMusic is a very good music download platform.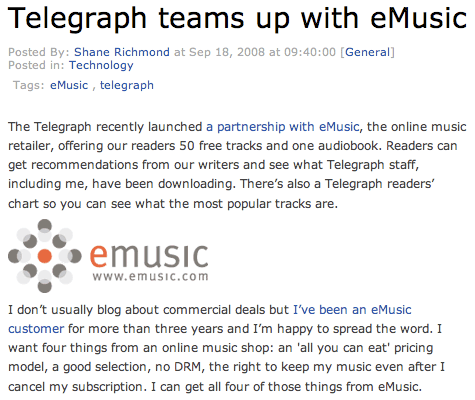 I really enjoyed using eMusic myself when I was living in Austria. Sadly my own e-Music membership has lapsed, so those Telegraph taste secrets are currently safe from exposure on currybetdotnet!