Almost getting my hands on a Sony Reader e-book experience
I got my first chance to play with Sony's Reader at Waterstones in Kensington on Tuesday. Well, I didn't really get a good feel for it, as it was firmly bolted to some point-of-sale material for security reasons.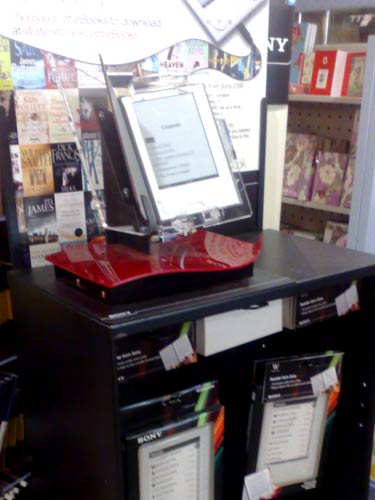 I thought the screen was very readable, but, like a few reviews I've seen. I found the page-flip to be a bit laggy. Mind you, I've been mostly using the Internet at 32kbps for the last two years, so you'd think I'd have developed a bit of patience for page loading times!
People have talked for some time about the Sony device or Amazon's Kindle being 'the iPod moment' for books.
I'm not convinced myself - you don't have to remember to charge up dead trees, and nobody ever got mugged for their paperback.
Still, it is obviously doing good business - there is a waiting list for stock in London.