A Greek political map of Europe is also a map of the Greek political mindset
Yesterday I published a little fable - "The Former Scottish Constituency of Northumbria"- intended to make the Macedonian name dispute between Greece and FYROM intelligible to anyone who understands the geography of the UK, but not of the Balkans.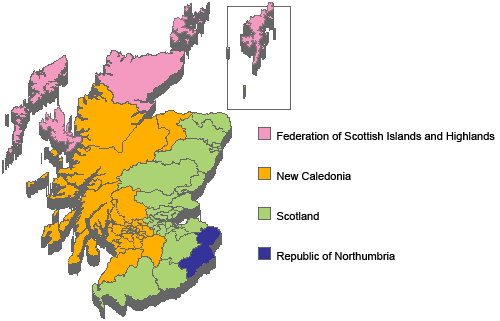 It is very interesting to consider how much of our world view is shaped by maps and geographical labels, and a look at a Greek map of the world can be very telling. One of the places I went to watch football near Chania is in Agia Marina, called The Kiss Bar, which is a fantastic place with plenty of screens, free wifi and cheap beer. It also has a massive Greek political map of Europe on one wall. And when I saw political, it really is political.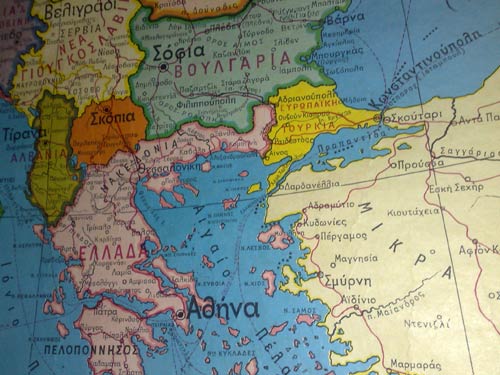 Take the Balkans region. On the map, the country that is either known as FYROM or simply Macedonia, does not have a name. You can see from ΕΛΛΑΔΑ and ΑΛΒΑΝΙΑ that country names are given in a pink font. All FYROM has marked is the capital Σκοπια.
This is pretty common on Greek television news. Rather than "Macedonia says...", or "The Former Yugoslav Republic of Macedonia says...", the news will say that "Skopje says...". There are plenty of Greeks for whom the inclusion of the 'M' word in that country's name is utterly unacceptable, even if it were to be combined with a qualifier to become 'Slavic Macedonia' or 'Northern Macedonia' or 'Upper Macedonia'.
Then look at Turkey on the map. This map is labeled a political map of Europe, and it is obvious that the cartographer does not consider that Turkey in is Europe. Well, apart from the small bit between Greece and the Bosphorus Strait anyway. The Western portion of Turkey is coloured yellow, as part of Europe. The vast majority to the East is white and thus marked outside of Europe.
This is a carefully considered decision, and nothing to do with how far East you have traveled, because further into classical Asia, Georgia, Armenia and Azerbaijan are all depicted in colour as fully European nations.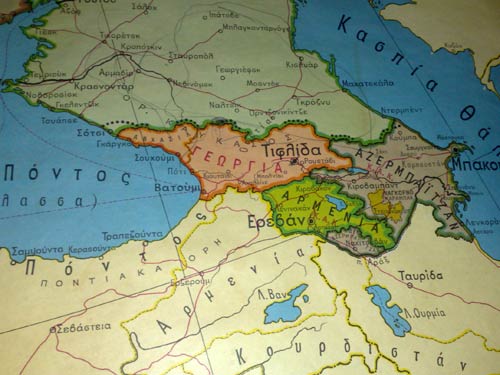 There is another peculiarly Greek quirk about the depiction of Turkey.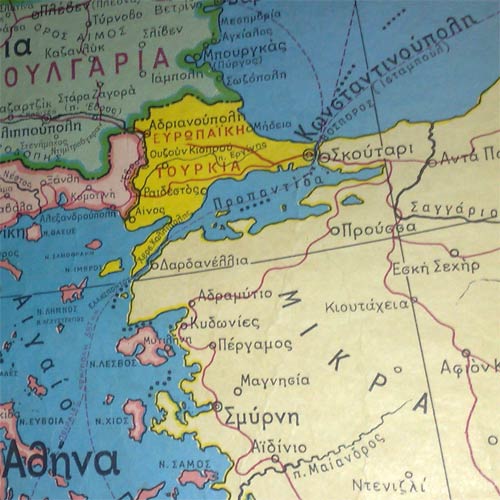 You'll be aware of a city called Istanbul, named officially that way since 1930. Not on this map, where the modest legacy of Roman Emperor Constantine I is still on show - Κωνσταντινούπολη [Constantine's City]. Likewise, Izmir is written as Σμύρνη. Izmir may not be politically "in" Europe as far as this map is concerned, but it is important to keep alive the memory of Greek Smyrna.
Now, I must try and find some Turkish and "Macedonian" maps of the region to compare...