A German child's eye view of FYROM: Mazedonien
Over the last couple of days I've been writing about the dispute between Greece and what is officially known as 'The Former Yugoslav Republic of Macedonia'. It is a battle that Greece has struggled to make understood outside of the Balkans, to the extent that apart from official bodies of international law and sporting relations, the majority of people simply refer to FYROM as Macedonia.
This was typified by a children's map I saw in a shop window on my recent trip to Gelsenkirchen.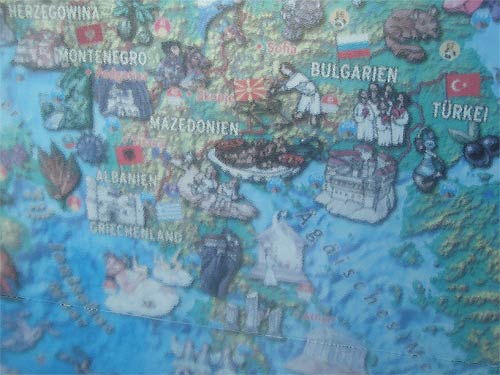 Children in Athens and in Skopje may be learning very different versions of the history behind the name and the ethnic identity of the Macedonian peoples - both Hellenic and Slavic.
However, children in Germany are already simply learning that there is a country on the map called 'Mazedonien'.