Music from Slab!'s iron lung
This is one of those weird freaky Internet inspired co-incidence stories.
In the mid-to-late eighties I was really into a pretty obscure band called "Slab!". Their first single "Mars On Ice" is still one of my favourite ever debuts, and I met the singer Stephen Dray a couple of times when seeing them at gigs.
A few years back I wrote a piece about them for the BBC's Collective site, and a couple of the band got in touch with me, which was very cool, until a laptop crash made me lose all my email so they probably think I'm really rude for never replying.
The article on the BBC site is about the only thing on the Internet about them, and when I was writing my blog post saying that you could download a PDF version of 'A lifetime of lost playlists' I mentioned them again, and wanted to link to the Collective article.
In order to find it I went straight to the BBC's search engine Google. Now, 'Slab!' as a single keyword doesn't get you very far. So I put in 'Slab! "Ink records"' as my search terms - and turned up this site.
It turns out that in June of this year someone put up some early Slab! mp3s to download. And not any old set of mps - but the mini-album "Music From The Iron Lung". This was the only Slab! record that I never had. In the 21 years since it came out I've kept an eye out for it, and never, until now, even seen the sleeve. And for a lot of those years I was working in record shops!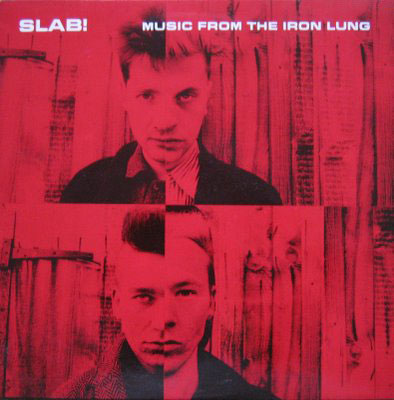 It features 7 tracks, 6 of which I have on the first two Slab! 12" singles - some of which I've not been able to play since my record deck failed to make the move to Crete in one piece.
"Music From The Iron Lung" also features an extra track that not only didn't I have, I'd never even known what it was. I'd been hoping it would be "Mining Town In Lotusland" or an early version of "Undriven Snow", but it turned out to be an instrumental called "Big Mac". Never mind, I was still overjoyed to finally have at least a digital copy of it.
Now, if I can just track down a recording of that one Peel Session by Tot...