BBC News in-line text links trial out in the wild
I had my first brush with the BBC News trial of inline text links today - on a story about the discovery of a giant classical statue's head in Turkey.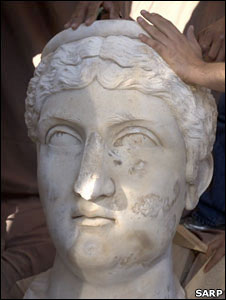 To see the trial, you need to select to 'turn on' the links from an options panel that is embedded a little way down into the story.

The links then appear within the body of the text, preceded by a small icon - 'W' marks a Wikipedia link, a 'bookmark' icon indicates links to elsewhere.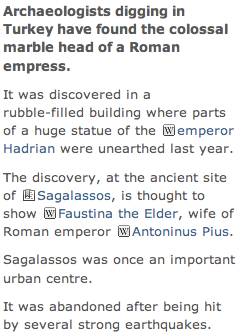 The content opens up in a pop-up overlay on top of the BBC News site, and the system is provided by Apture.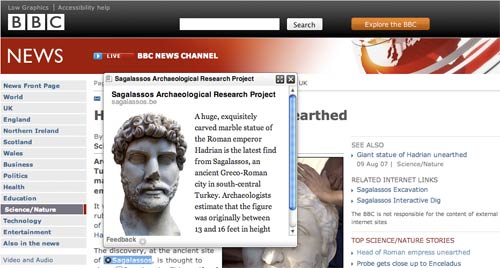 According to the help page accompanying the trial:
"We are doing this trial because we want to see if you enjoy exploring background material presented in this way. It's part of our continuing efforts to provide the best possible experience.

In addition to background material from the BBC News website, we are also displaying content from other sites, including Wikipedia, You Tube and Flickr. We have done this to find out what you think about us offering you related material from other sources."
In truth, I suspect the motivation is due to the dim view taken by the BBC Trust earlier this year of the BBC's efforts to link out more widely from bbc.co.uk. Personally, I'm not entirely convinced that littering the web with yet more links to Wikipedia as the standard definition for everything does much to aid the BBC's role to be a 'trusted guide' to the web.
But then, as I've written before, I'm not convinced that either the BBC or the BBC Trust understand what that actually is anymore.