Zattoo and the rights holders - it is going to end in tears
I ended up watching last night's Euro Vase UEFA Cup Final rather randomly in a pub in Bayswater. Which turned out, in a Daily-Express-reader-nightmare-come-true, to be full of Zenit St. Petersburg supporters, rather than Little Englanders sticking up for our plucky North-of-the-border cousins.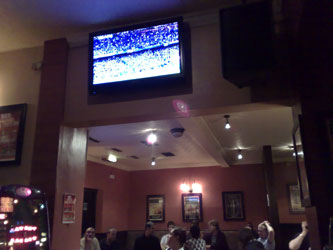 But I could have been watching it on Zattoo.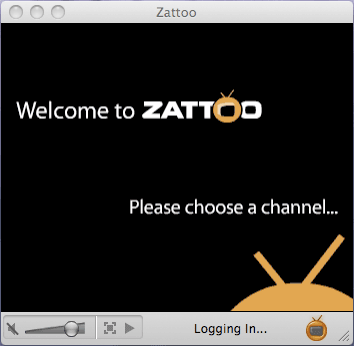 It might sound like it could come from Eastern Europe, but Zattoo is actually a way of watching peer-to-peer delivered Internet streams of the UK's terrestrial free-to-air stations, which was causing a bit of a buzz yesterday on the backstage.bbc.co.uk mailing list and amongst the people I'm following on Twitter.
Zattoo do understand the concept of copyright and IP, as their terms of use state quite clearly:
"User may not decompile, reverse engineer, disassemble or otherwise intend to make the software used in combination with the Services, including the source code, available to third parties, if not permitted by other agreements."
Zattoo claim that what they are doing is no different to a cable TV company, and that they are covered legally by Section 73 of the 1998 Copyrights and Patents Act to re-broadcast free-to-air public television. Television channels and rights holders might feel very differently about that interpretation of the law, not least of all ITV and UEFA last night.
ITV won and paid for the rights to exclusively supply the broadband streaming of the UEFA Cup in the UK, from the quarter-final stages onwards, in a bidding round for a package that lasted three years. They set up a sub-domain of ITV.com specifically for streaming UEFA Cup content, which required free registration, and which was restricted to registered members.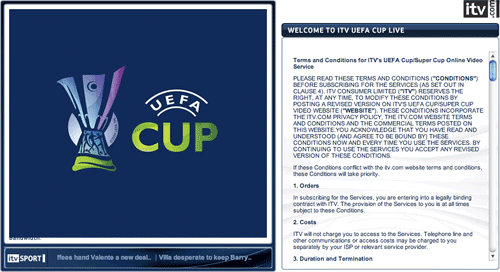 Undoubtedly they will have indicated that they again intend to bid for UEFA Cup coverage in the next media package, which runs from 2010 to 2012. UEFA stopped accepting bids for that a few weeks ago, and the process again makes the assumption that the broadcaster who wins the television rights package also wins the new media rights to stream the matches online.
"Rights will be offered on a platform neutral basis. As a result, successful bidders for live match rights will benefit from exclusivity across all media platforms (including television, Internet and mobile) throughout the entire live match."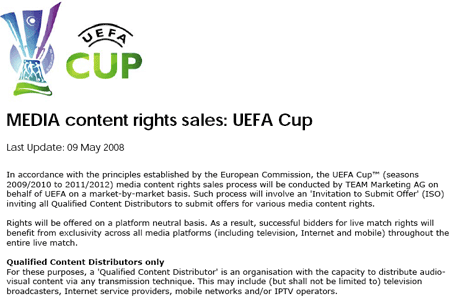 Well, not according to Zattoo. If you were watching their re-purposed stream of ITV1 last night, you would have also got the UEFA Cup Final over teh interwebz.
It looks like a great idea for a service, and it is nice to see all the UK terrestrial channels packaged together in one application. That certainly makes sense for the user, rather than the current arrangements where ITV.com, 4OD and iPlayer are all distinctly different offerings. However, I don't think it is going to make much sense for PACT, the Premier League (who keep Match Of The Day out of iPlayer), UEFA, the IOC or any number of lawyers itching to cut their teeth on a good 'old fashioned rights holders' versus 'the Internet' case.