Lies, damned lies, and motoring statistics in The Sun
There are lies, damned lies, and articles about motoring and crime statistics, and The Sun had an absolute classic yesterday in that genre. Topically titled 'Grand Theft Auto', the paper ran a two-page spread about the way that the motorist had become 'public enemy number one' in the last ten years, being treated as a criminal and taxed to the hilt.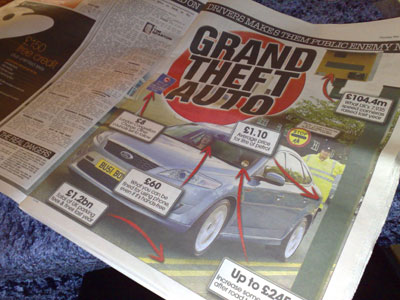 At the foot of the article in print was a great little box-out 'explainer':
The Real Dangers

IF drivers are targeted as public enemy No1, where does that leave this lot?

BENEFIT CHEATS: They cost us £800m last year, according to official estimates

ILLEGAL IMMIGRANTS: No one - even the Government - know how many have slipped through the net

KNIFE CRIME: Stabbing deaths rose from 201 a year when Labour took power 11 years ago to 258 last year

GUN CRIME: Shooting deaths rose from 46 a year when Labour took power to 59 last year

HOODIES: There were 140 cases last year of people being kicked or battered to death compared with 89 in Labour's first year

PAEDOPHILES: Some have been let off with non-custodial sentences because of prison overcrowding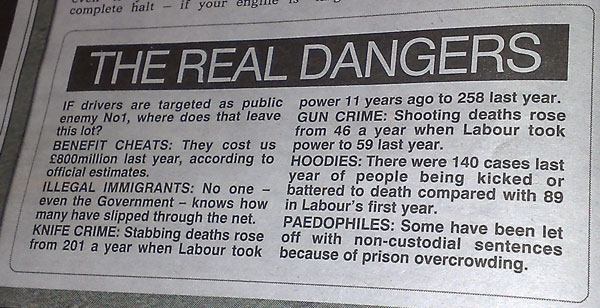 It seemed to me that there was one significant statistic omitted from that list of deaths.
Adding together victims of fatal stabbings, shootings and beatings, you reach a figure of 457 people who died unnecessarily in the UK last year because of a crime.
And the number of people killed in the UK in 2006 by motorists?
3,172
So maybe they are public enemy number 1 after all? I mean, you can't imagine being allowed to introduce a new product onto the market now that was guaranteed to kill over 3,000 people, and seriously injure another 28,000, every year, can you?