Woman's Own gets a print 'blog'

by
Martin Belam
, 19 March 2008
You'll do almost anything to keep yourself amused in an airport whilst waiting for a flight. On Monday in Heathrow's godforsaken Terminal 2, that included flicking through a copy of "Woman's Own". Well, a man has to get his fill of celebrity gossip, female health problems and lead interviewee Piers Morgan.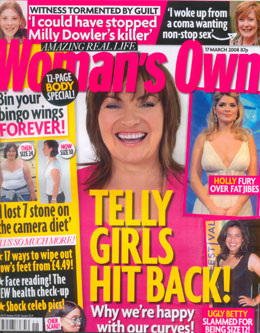 At the back of the mag was the "Woman's Own" 'interactive' section, called 'Chat Room - Your life, your opinions, your page'. I was more interested in this than anything else in the magazine, because of the way it tried to present essentially online interactions in print.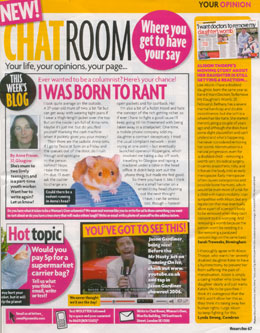 It had a few features on it, including putting two opposing views about a recent magazine article from two different readers together. There was also a 'Hot topic' vote. Readers could express their opinion by text, email or snail-mail on the issue of supermarket plastic bags. The whole page was labelled as 'New', and so that probably explained why there didn't seemed to be any results from previous 'Hot topics' on the page.
Another section was "You've got to see this!". This featured a still image from a video on YouTube, in this case of Dancing On Ice character Jason Gardiner. Interestingly, instead of giving a full YouTube URL for the video, or employing something like TinyURL, "Woman's Own" publish instructions on how to search for a video.
"Check out www.youtube.com and tap in Jason Gardiner showreel 2006"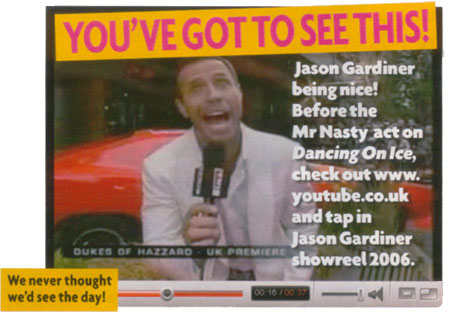 If you were trying to sell anything to the "Woman's Own" target demographic, then you know exactly what search term to optimise your promotional YouTube video for!
The main feature on the page though was "This week's blog". The strapline was slightly more accurate:
"Ever wanted to be a columnist?"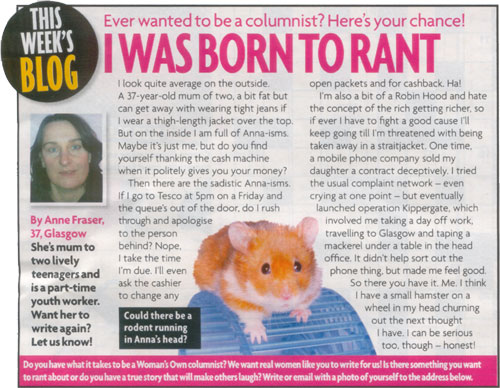 There didn't seem to be anything remotely blog-like about the format, which was essentially an extended 'letter to the editor' about yourself. Readers were invited via email, text or again snail-mail to decide whether the columnist should get a chance to write for the magazine again. This is similar to The London Paper's 'More or Bore' vote.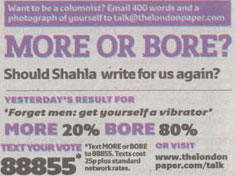 One final point struck me about the layout of the "Woman's Own" page. At the foot, the magazine invited contributions via email, to the address letters_own@ipcmedia.com. However, because of the column width allocated to the email address, it was split across two lines.

I'd wager that if they checked their email logs, they'd find they get plenty of mail mistakenly sent to just the bottom line - own@ipcmedia.com - an address which bounces instead of being set up to re-direct to the right mailbox.