The long (monkey) tail of YouTube
I got an email alert from YouTube a while back, informing me that someone had left a comment on my YouTube clip of a monkey teasing a pig which we saw in Salzburg Zoo last winter.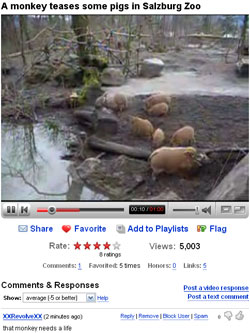 XXRevolveXX had said:
"that monkey needs a life"
I was just in the middle of composing some witty retort about pots / kettles and the fact that XXRevolveXX had frittered away a minute watching the monkey with no life, when I noticed something I found astounding on the page.
I recently bookmarked "YouTube by the Numbers" from the Data Mining blog talking about the viewing rates for YouTube videos, which claimed that 'In the first month on YouTube 70% of videos get at least 20 views and 50% of videos get at least 100 views'. At the time I commented that this was much higher than I would have expected.
I also recently enjoyed a piece which I read in Bloglines but have distinctly failed to track down again, which pointed out that there is a growing generation gap. People who grew up on a diet of purely professional media don't understand the voracious consumption habits of the younger generation for DIY fare.
What caught my eye on my YouTube video as I was about to respond to the comment was that in the space of a year, my monkey clip had been viewed over 5,000 times.
It is quite sobering to think of all the effort that goes into writing the posts on this blog, and then realise that my badly filmed, poor resolution video clip of an, admittedly, funny monkey, has proved more popular than all but a handful of the posts I wrote last year.
Still, it hasn't proved as popular as the clip of a monkey giving another monkey a blowjob, which YouTube was recommending as related content to my video. I can't think why that has earned more views...