Postcard from Macau #6: The land of SMS spam
I recently spent three weeks visiting Macau, the former Portuguese territory on the south coast of China. As a former colony like Hong Kong, it is now a 'Special Administrative Region'. This post is one of a series looking at aspects of information design, user experience, internet use and journalism that interested me when I was there.
Macau's telecomms industry seems to have a great deal of competition in the mobile network sector. With leaks from mainland China, at any given time I had a choice of about six networks to roam on. However, that wasn't always a good thing for the international consumer.
When I was in Macau, I was inundated with SMS spam from mobile networks. I'm used to getting the odd 'Welcome to the network' message each time I land in a new country, but Macau's telcos went beyond the call of duty.
In the space of twenty days I got over 30 messages, mostly from the SmarTone and 3 Macau networks.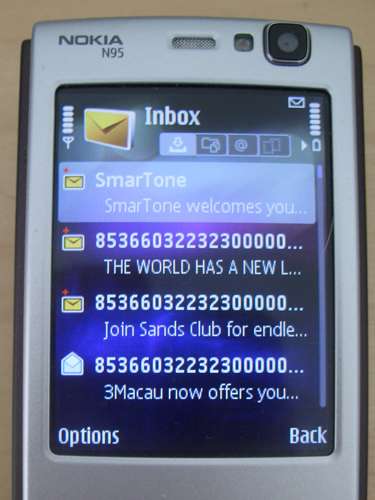 3 Macau were the worst, sending me the bulk of the SMS messages. All came with no indication as to whether I was going to be charged for them, or how to unsubscribe from them. I also got several duplicate messages. They weren't just 'welcome' messages either. Amongst other things they simply advertised the Sands Casino and the Da Vinci exhibition at the Macau Tower to me.
They also seemed concerned that I might get caught out by a phone re-numbering scheme that Macau is undergoing. It wasn't clear whether the panic about new phone numbers was being fuelled by misinformation from the tabloid press, as it usually is in London.