Haunted Knightsbridge, Kensington and Notting Hill
Long-term readers of currybetdotnet will know that as well as the usual technical and media bits'n'bobs on the site, I used to recount the ghost walks my wife and I went on in London, and further afield.
Whilst we've been in London we've done a couple more walks from Richard Jones' excellent book "Walking Haunted London". Yesterday I wrote about our trip starting in Westminster, and today here is what happened when we walked around Haunted Kinghtsbridge, Kensington and Notting Hill.
This was one of the routes in the book where the hauntings are so geographically spread out that Richard Jones doesn't provide a specific route, but instead lets you plot your own way around.
We chose to start at Lancaster Gate station, and walk across the park, where we enjoyed encounters with a few species of London wildlife including a heron, some squirrels and a happy, bounding rat. Oh, and a fake plastic guard owl. We also get to see a spectacular pink sunset behind the Albert Memorial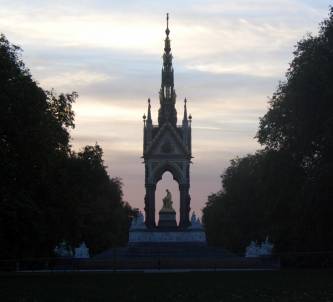 The first haunted story was in Lowndes Square, which we didn't know how to pronounce, but did know how to find, just near Knightsbridge Station. The supposed spectre in question here was an old lady sitting by the side of the road pulling grotesque faces. Each to their own.
We then made our way to Montpelier Square. This was the scene of a classic unattributed haunting, where a man's dead wife fetched a priest to hear his final confession, just before his sudden demise.
After that, our next place of interest was a-ways-away, and so we cheated a little and hopped on a bus down Kensington Gore until we reached Kensington Palace. This is haunted by more than one royal ghost, and an air of melancholy is said to hang over the palace. George II is one of the ghostly inhabitants, as is the bitter loveless Princess Sophia.
From there we made our way to Notting Hill, to see the Coronet Theatre. This is meant to be haunted by a cashier who was so overcome with guilt at being caught stealing from the till, that she threw herself over the theatre's blacony to her death below. It remains a beautiful building from the outside, but we didn't venture in.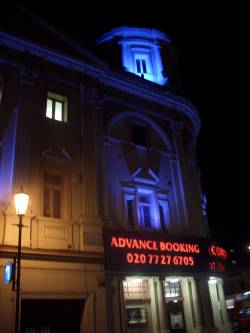 By that time we felt we'd walked far enough, and so skipped the last two haunted locations on the itinery. As Richard Jones said, these hauntings were far more spread out than usual, and there wasn't an obvious route between them. We opted not to visit the location of the headless ghost of the Earl of Holland haunting what remains of Holland Park House, or visit the place near Ladbroke Grove where a phantom double-decker bus appears in the middle of the night to cause road traffic accidents.
Instead we hopped on a bus from Notting Hill to Lancaster Gate, and went and got a Lebanese meal at Fontana. A little bit pricey, but really good food, and a nice end to a night strolling round some of the showier bits of London.
The ghost stories themselves were a little bit disappointing however, with a couple of them falling into the kind of 'generic' ghost story that wasn't specifically grounded in London. In fact the scariest thing was the bejewelled skulls in this rather odd shop window display we spotted along the way.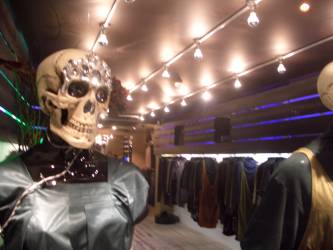 Thankfully our next walk, around the City between St Paul's and the Barbican, was much more interesting.