Gatwick Yotel not quite so swell
Anyone who has been following my trips on Dopplr will know that I've been stomping my carbon encrusted feet all over Europe in the last couple of months, with six flights in just over as many weeks.
I've been dragging my better half around with me, but last week she headed back to Crete slightly before I did. She had an early check-in at 5:15am at Gatwick. We decided, instead of travelling through the dead of night, that we'd go to Gatwick the previous evening, and book a pod in the Yotel there.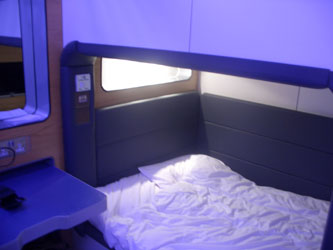 It promised to be a futuristic space-ship style experience with loads of hi-tech gadgetery, and just enough room to squeeze the two of us in. I was really looking forward to it, but couldn't help coming away disappointed.
On the night we visited, they were having computer problems, so we couldn't be issued with an individual key to our pod, and a lot of the promised features weren't working.
One just-for-the-hell-of-it treat we were looking forward to was ordering food and drink via the interactive TV set, but this feature was 'down'. The interactive TV unit also promised web access, but Claire couldn't get onto her Gmail - admittedly an arduous task for non-standard PC/Mac/Linux browsers - but the whole experience was difficult to use and the service patchy. As was the promised free wifi or ethernet broadband connection. Neither were working.
Ah well, those can be put down to glitches, which were inconvenient for us, but not a problem with the concept itself.
The pod was very small, but about the size of a ship's cabin on a ferry, so not unbearable, but with two of us in a standard pod it was pretty difficult for both of us to stand up at once and have Claire's luggage in the room.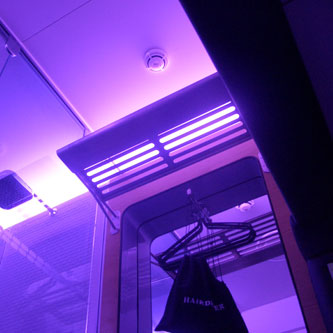 The oddest feature though was the bathroom arrangement. The sliding glass doors separating bathroom from bed were not frosted in anyway. The bathroom wall was one large mirror, and there was another large mirror above the desk / workstation. All of which meant that it was virtually impossible to find a spot in the pod where you didn't get to watch your partner using the toilet, and having a shower was positively a spectator sport.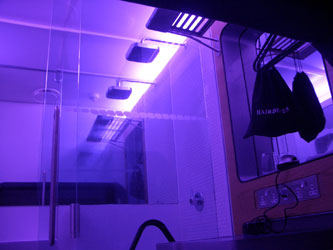 It isn't, perhaps, an option to share with someone you aren't very intimate with!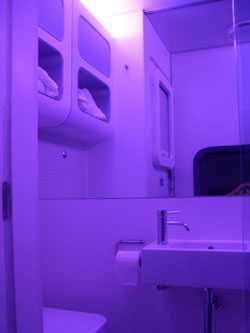 Aside from the tech trouble, Claire had to get up at just before 5, and couldn't get any hot water for the shower. That is a pretty fundamental failing of a hotel room.
One other thing that I didn't think was quite right was the fact that the interactive TV unit promised an adult movie service. Of course, I'm sure it is a great revenue driver, but it seemed somewhat out of step with the Yo! Sushi and Muji brands that are behind the venture.
There were some really nice thoughtful touches though. A selection of gadget chargers were available, so if you'd forgotten your mp3 player or phone charger, there was an opportunity to get it juiced up using the Yotel's equipment. The workstation also had four free plug sockets as well, which for a gizmo fiend like me is the bare minimum requirement.
I wouldn't totally rule out using the Yotel again in the future. 9 hours worked out at £50, and in this particular instance it meant that Claire could wake up literally 15 minutes before she was due to check-in, with no worries about travel delays, and much less lost sleep.
I could see myself, providing I was convinced that the internet connection was going to be OK next time, using it as somewhere to quietly get some work done before getting a flight.
However, because of the technical problems on this trip, I didn't really feel that we got our money's worth. If nothing else, being able to hook my laptop up to the internet for nine hours for the first time in about 5 weeks was something I had been counting on to get a load of telly downloaded before heading back to Greece.