Reckless Records RIP - Part 11: Afterburner

by
Martin Belam
, 30 August 2007
(or "Everything I know about second-hand record retail I learnt by being rude to customers at Reckless Records" by someone a bit like that bloke in 'High Fidelity')
My recent series of posts about my time working at Reckless Records was prompted by the fact that a few weeks back I found out that, after 24 years, the company had ceased trading and the shops had been closed, including the branch at 26 Berwick Street which I helped open in October 1998.
On my recent trip to London I made sure I visited Soho to see what had become of the branches there. I know from a previous visit to Islington that the branch there was just a shell of itself after it closed.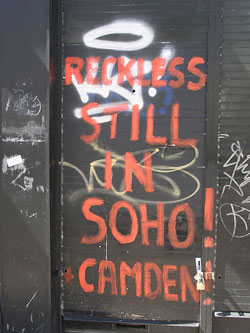 On Berwick Street the rock, pop, classical and jazz branch that I helped open at number 26 is unoccupied, and still branded as Reckless.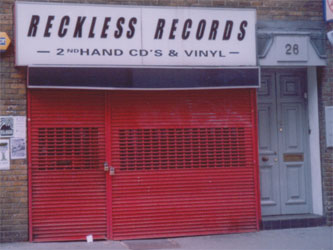 The old dance shop at number 30 that I used to be a manager at now has a new record shop in its place - Revival Records.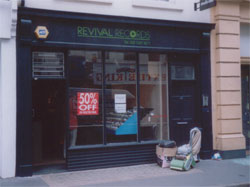 They looked to have picked up a lot of the old racking and fittings that were in the old Reckless branch, and quite a bit of the old stock too. Plenty of the records and CDs I glanced at had the old-style barcoded price labels from Reckless, with stickers over them saying the record was available at 50% off the marked price.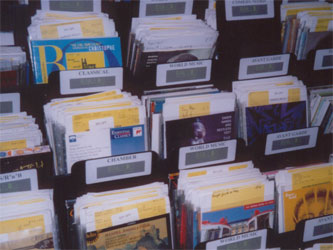 It didn't seem to have retained the dance music crowd that this branch of Reckless was renowned for. When I was there, in the middle of what should have been a pumping Saturday afternoon, they were playing acoustic Prefab Sprout.
It wasn't just Reckless who have been feeling the pinch on Berwick Street either. Select-a-Disc have shut down, and Sister Ray have moved into their retail space. Meanwhile CD City has closed as well.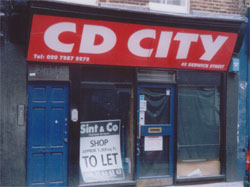 I also saw that Cafe Lena was now shut.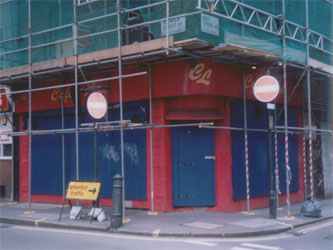 This used to be the unofficial cafe of Reckless staff. Jack, the slightly bonkers Polish owner of the cafe, would give staff a discount on food and drinks there, in return for a discount behind the counter at Reckless when he needed some new tunes.
I took a trip down nostalgia lane and went for a swift half in The Blue Posts, which was my regular haunt whilst working on Berwick Street for several years.
I was quite weird to be visiting it whilst I was back in the UK doing a stint of work for the BBC. It had been in this pub that I had seen and ringed in biro the advert that took me to the BBC in the first place in 2000. Back then I had to secretly take extended early lunch-breaks from Reckless in order to go to Bush House for my BBC interviews.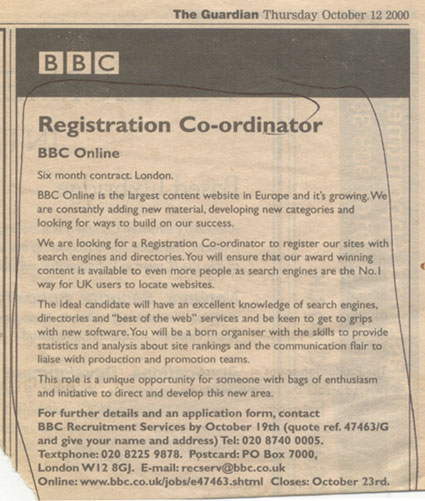 Some things never change though, and The Blue Posts pub on Berwick Street is one of them.
Well, it hasn't changed too much anyway.
It was still the same old landlord.
With his same old employment policy of inexperienced Eastern European girls who can barely speak English let alone pull a pint a classic ale.
Still the same old boys, watching the same old horse racing on the TV in the corner, and still cursing their rotten luck.
Still the same old toilets hidden behind a sign marked 'Private' - only the 'Beware Of The Leopard' sign is missing.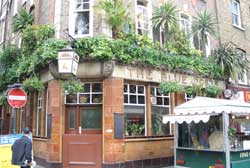 I pop back there now and again when I'm in town - the last time being when I went to a CD signing by the sublime Claudia Brücken at Sister Ray. I'm never entirely convinced that they recognise me, even though when I left Reckless I had been such a regular there that they gave me a leaving card!
The only thing that seems to have changed in The Blue Posts was that it was now mercifully free of the fug of smoke that used to make you feel like you'd smoked 20 Marlboro Red per pint if you visited it.
Altogether I ended up working at Reckless for six years in three different branches, and for most of that time it was pretty good fun, with plenty of characters on both sides of the counter.
And I obviously had half an eye on eventually writing this article, since I got my future wife to take a picture of me as I locked up the branch at number 26 Berwick Street for the last time in December 2000.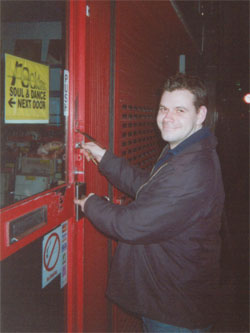 I still miss getting to hear so much new music from so many different genres all the time - and there are plenty of albums that I know really well because they were in-store favourites, which I don't have copies of at home.
Social music applications like last.fm are pretty cool, but they can't quite replicate the hot-house atmosphere of having a roster of staff consisting of 25 mad music fans who were all experts in their fields, desperately trying to impress each other, all day, every day, with how cool their music selections were.
I'd hate to be in the physical music retail business now though.
Digital downloads and illegal file-sharing, despite the protestations of the BPI et al, still only account for a relatively small share of the music market. The bulk of physical sales now come from supermarkets and big chains. Independent music retail stores have been pretty much squeezed out of the market, and secondhand retailers even more marginalised by developments like eBay.
I was lucky. Being at Reckless gave me an opportunity to get interested in the internet, which has then led on directly to what I do now for a living. I hope that my ex-colleagues have been as fortunate as me in going on to be able to do something else that they enjoy as much.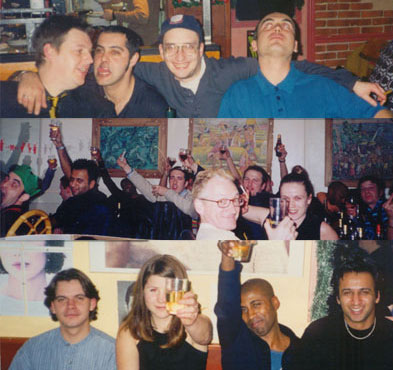 Various Reckless staff parties during the years that I worked there - including a younger, longer-haired author in the bottom left.