BBC iPlayer search plugin for Internet Explorer and Firefox, and an iPlayer Google Toolbar button

BBC iPlayer [Add this search to your browser]

BBC iPlayer custom Google Toolbar button [Add this button to your Google Toolbar]
Today I've added an OpenSearch plugin and Google Toolbar button for the BBC's iPlayer to the list of plugins and widgets you can download from this site.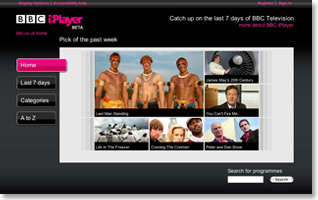 Since both the OpenSearch standard and the Google Toolbar standard are cross-platform, it means that this iPlayer search plugin should work in Internet Explorer 7 and above, and in Firefox 2 and above.
Which is a little bit ironic, of course, if you remember that for the moment the iPlayer's use is retricted to Microsoft's Internet Explorer browser only.
However I am assured that cross-browser support is on the way - and Ashley Highfield has even gone on the blogging record this week saying that there will be at the very least Mac support for streaming catch-up BBC TV as part of the iPlayer proposition by the end of the year.
In the short-to-medium term however, the web portion of the iPlayer has been built to render properly in the majority of modern browsers, even if they cannot access the actual downloads themselves.
In the meantime, you can at least use these plugins on Firefox, and then switch to IE when you want to initiate a download.

BBC iPlayer [Add this search to your browser]

BBC iPlayer custom Google Toolbar button [Add this button to your Google Toolbar]