What tickled me in the Daily Mail this week
I usually only follow the British press via their online versions, but generally once a week over here we treat ourselves to one print edition of one British newspaper. This week we were hanging around a place that didn't stock any broadsheets or ex-broadsheets, and so we ended up with a copy of Tuesday's Daily Mail, which they print over here in Greece.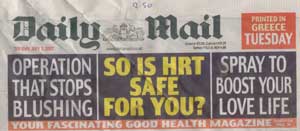 Despite all the breathless excitement I have for technological developments, there is still something rather nice about having a print edition of a paper that you can gradually work your way through whilst snacking on lunch or lounging on the sofa, rather than being sat in front of the PC screen.
And especially when you only get one a week, having the print copy also means I tend to read more of the quirkier bits of a newspaper that I would generally skip over online.
So I wonder if you can guess which of the following bits of Tuesday's Daily Mail tickled me the most this week?
Cherie Blair character assassination
The Daily Mail's visceral hatred of Cherie Blair spilled out into a two page spread debunking the wacky things she has tried in the last ten years.
"I'm not bonkers insists Cherie Blair on TV this week. Here, with an affectionate reminder of some of her more diverting treatments, we invite you to make up your mind"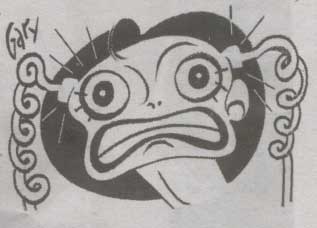 They include such outlandish and rare beliefs as spiritualism and Feng Shui.
Mind you, I'd give the Mail the benefit of the doubt on the Flowtron Inflatable Trousers.
Of course, what the newspaper doesn't mention in their 'Is Cherie bonkers?' article is that just a few pages away in the Good Health section, the Mail is going to start recommending sleeping pills for stroke victims, explain that we should follow the example of Sally Gunnell (who it points out is the spokesperson for Great British Chicken - eh?) and not use painkillers, then say we should take painkillers to avoid lung cancer, alongside other such quack medical 'news' coverage.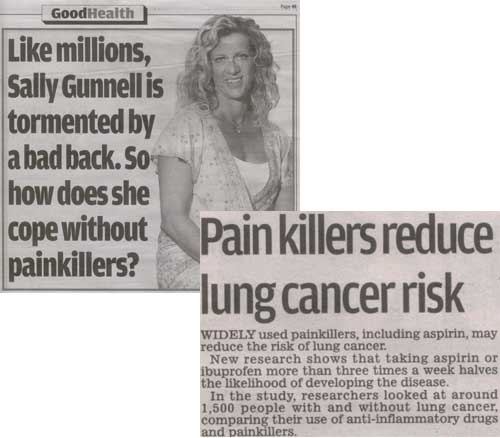 War rations diet family
This kind of article plays right into Middle England territory - put a modern family on a post-war rations diet, and then prove that everything used to be better in the old days, aren't kids today disrespectful, this sceptred isle, oh what a luvverly war, 1066 and all that.
Actually, what amused me most was that after two weeks of the shocking idea of giving their children fruit and vegetables rather than Coco Pops for breakfast and chocolate spread sandwiches for lunch, the kids lost weight. Mum also lost a dress size and dad lost more inches than he could count. The kids were better behaved and everybody was happy, especially as it halved their food bill.
So they immediately went back to their old snack and convenience food diet as soon as the experiment was over.
Genius.
So does the doggy diet drug work?
Yes, you did read that right.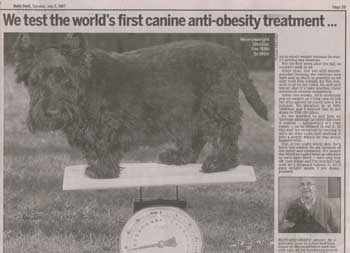 A mere couple of pages ago they were berating Cherie Blair for being bonkers. Then the Mail has a two page spread asking "Is your hound too round?"
Again, like the rations diet family, I was slightly more disturbed by the person in the article rather than the article itself.
It followed, amongst others, the fortunes of overweight Hector, one of a long line of Hectors. He was Hector III, owned by PR person Anne Diamond (presumably not this one). He was named after Hector mark II, who was named after Hector mark I, who broke the mould by not being an overweight Scottie dog, but by being Anne's first boyfriend.
The article didn't specify if Hector #I had been her only boyfriend, but it did point out that she was currently single.
I don't know, I kind of think that repeatedly naming your pets after your first boyfriend might be a symptom of what is keeping the boys from beating down your door...
Still, none of those three had me laughing out loud like this last excerpt from the paper.
Don't listen to lifestyle gurus says Jonathan Cainer
Jonathan Cainer had some strong words of advice on Tuesday for us people who are nominally Libran if you go in for his sort of mumbo-jumbo:
"We see them on TV. Lifestyle coaches. Psychologists. Mood gurus. Domestic goddesses. Serene stars of the silver screen all hammering home a message. 'Read my book.' 'Watch my video.' 'Take my course.' 'I'll help you live a better life.' How would they cope if they had homes or families or jobs like ours? But then, of course, it would be us teaching them! Let an 'ideal vision' appeal to you by all means, but don't let it be a reason to feel bad about something you should be proud of."
Wonderful sentiment.
Couldn't agree more.
Oh, hang on, there is some small print from Jonathan Cainer underneath 'my' horoscope.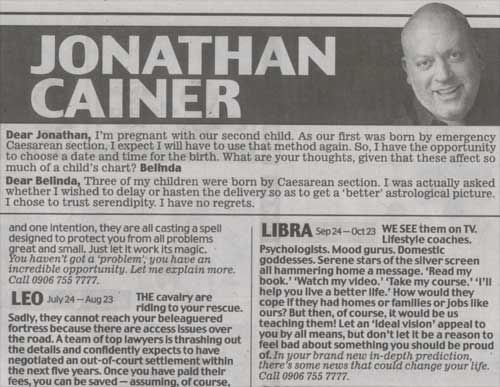 "In your brand new in-depth prediction there's some news that could change your life. Call 0906 755 7777. Calls cost 75p per minute. Mobile rates vary."
Now that is funny.