The Independent's confusing use of timestamps
Whilst doing the research for my lengthy series about the "Web 2.0" features on British newspaper websites, I came across quite a few quirks on them that didn't fit into the main set of articles, but that I wanted to point out anyway.
The Independent's site didn't get a good review from me - particularly their blogs - and there was another thing I found bewildering about their technical implementation - their use of time-stamps.
On articles on The Independent's site, the most prominent time and date displayed is the current time and date as specified on the user's computer.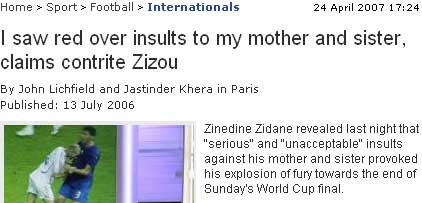 This article about Zidane from the aftermath of the 2006 World Cup Final carries a published date of 13 July 2006. However the visual design and placement of the two dates on the page makes the date I took the screengrab - April 24 2007 - the more prominent of the two.
Some articles on the site don't even carry their original publication date as clearly as that though. In my review of The Independent I used a screengrab from this comment piece criticising the blogs on other newspaper websites. The 'published on' timestamp appears underneath the bold standfirst, in the same font as the body of the article. It is the timestamp determined by the user's computer that is visually the dominant date.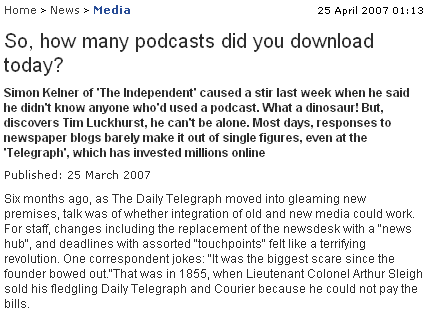 Being able to echo back on a webpage the time and date setting of the computer looking at the page was very clever when people first had the tools available to do it.
Which was some time in the mid 90s.
Surely the only two possibly important time related pieces of metadata about a newspaper article are when it was first published online, and when it was last updated online.
At what time the user is viewing it seems utterly inconsequential. Except, it seems, to The Independent.