Google search results promoting YouTube's Premier League copyright infringement
There was a bit of fuss last week when Ask announced a more integrated search results interface, following on from a similar announcement a while back that Google were going to more tightly integrate their niche search products like image search and blog search.
One of the problems for Google is that the tighter integration of video results into their main search engine makes it harder for them to plead ignorance about copyright issues.
Apart from the issue of a few Belgian newspapers inexplicably not wanting people to find their stories and read them, Google property YouTube has come under fire from the Premier League in the UK for hosting clips of matches which infringe upon the insanely lucrative broadcast rights to the matches.
A simple for search for something like "tevez goal blackburn" turns up video clips on YouTube which Google not only ranks highly, but also makes more clickable by promoting them with a thumbnail image and a visual star rating.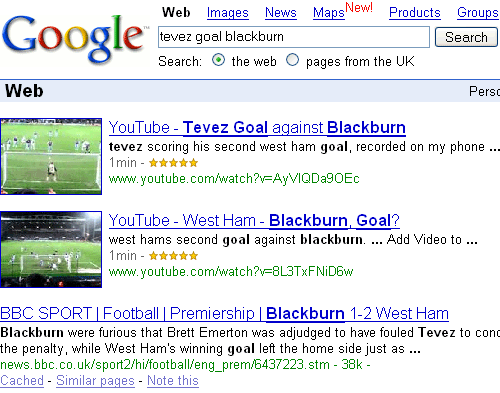 It isn't only the copyright issue with the clips of interest here though.
Google has been a staunch supporter of the concept of net neutrality, and makes bold claims not to interfere with the content of their search results, except when divining more and more sophisticated algorithms.
So, I'd expect anyone running a video search aggregation service trying to rival YouTube will be pretty unhappy at the way Google uses the appearance of the search results to be anything but neutral in its promotion of its own web property over other online video services.