Blue Peter fakes competition result - in the Middle East?
It has not been a good day for the BBC so far.
First up was the announcement that the BBC Trust is suspending the expensive digital curriculum project BBC Jam for review, following increasinging complaints from the private sector that the BBC has not kept to the conditions under which it was granted permission to launch the project.
Then in a development that will shock thirty-and-fortysomethings across Britain, Blue Peter has admitted to faking the results of a competition.
It clearly shocked the staff writing the story for BBC News - they managed to file the report under the Middle East section...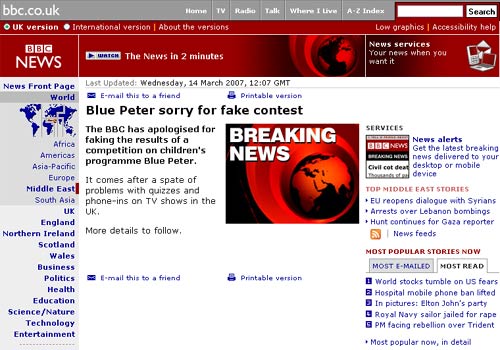 Added later....
It obviously was a bad hair day at BBC News - later on in the afternoon they had the Blue Peter story on the UK BBC News homepage - directly above a feature titled "Did we fix it?"