Usability issues with OTEnet's On Wireless wifi service at Athens airport
My recent trip to Germany to see Switzerland versus Togo in the World Cup meant I spent Tuesday trying to get from Dortmund back to Hania in time to see England play Sweden. It also meant I got to try out the wi-fi facilities at two different airports, with very mixed results.
In Frankfurt, it seemed the whole airport is covered by a T-Mobile wireless network. This was very simple to log-in to. You could purchase access in 15 minute blocks for €2 with your credit card online.
In Athens, it was a slightly different story, and one fraught with usability issues. In Athens airport national telecomms monopoly OTE's ISP off-shoot, OTEnet, is responsible for the network.
Logging on, the user is presented with a screen that asks for a user-name and PIN number, or the option of selecting a roaming mobile phone network that you have a contract with. It also informs you that you can log-on with an OTEnet On Wireless pre-paid card. What it doesn't tell you is where you can buy the cards from.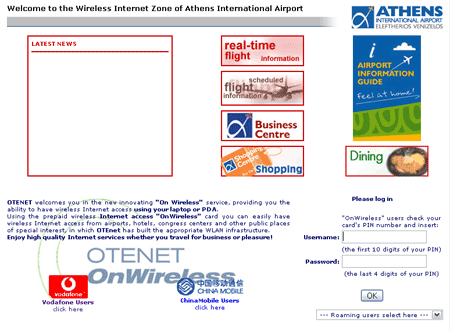 Given that the wireless point has identified you are in Athens airport, as other options include browsing real-time flight information and the service is co-branded with the airport, it seems a glaring omission.
Fortunately, having lived in Greece for a little while, I realised that the chances were that I could buy the cards from a newsagent, so located the Press Point branch in the airport, and sure enough, was able to purchase a completely unadvertised under-the-counter pre-paid wireless access scratchcard. It seemed really unhelpful not to be able to pay online, or to give any hint to anyone less well versed in Greek society where the cards might be purchased.
The web based interface to login to the OTEnet On Wireless service was also not without issues. The first thing it did once my laptop detected the network was to force the browser to re-size. This seems to me the kind of technique from back in the internet's dark ages where you resized someones browser with JavaScript just, well, because you could. I don't see any need for it - and it really annoys me that regardless of my personal preferences on my own computer, any accessibility requirements I might have, or any assistive technologies I might be using, OTEnet think they know best how to organise my desktop.
Once logged in with the details revealed on the scratch-card, OTEnet's On Wireless forces another resize of the browser window - this time into a ridiculous 450px x 200px pop-up size! This page contained a log-off button to end your session.
I checked with both Firefox and Internet Explorer, to make sure that the re-sizing and quirks were not just an issue of a poorly coded website that hadn't been tested on Firefox, but it looks like the user interaction has barely been tested at all. I've got a standard install of IE6, with the default levels of security, that I only use for testing sites and coping with businesses that try to lock me into Microsoft products. This final re-size affected usability even more in Internet Explorer than it did in Firefox.
As illustrated, because the browser blocked an attempt to open this page as a pop-up, the button to log off is below the fold of the now very small browser window, and OTEnet have forced the window in Internet Explorer not to have scrollbars!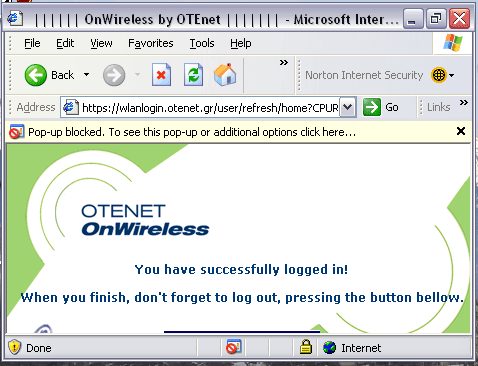 The thing is, I guess the target users of wifi access in a airport are business people not technology geeks, and I just couldn't believe how unusable the whole experience was.
And it wasn't cheap either.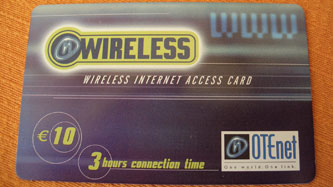 At €10 for 3 hours access, on paper the pre-paid card seems better value than the T-Mobile deal in Frankfurt, which worked out to €8 per hour for access. However, the username and PIN on the card are only valid for one month - so unless I find myself back at Athens airport for a while within the next thirty days, around 2 hours of the access I've paid for will remain forever unused.