I've recently been doing a survey of how well search works, or doesn't, across a number of British newspaper web sites. The quality of the results, and the usability of the interfaces, varies widely across the market sector. I thought I'd look at each newspaper I studied in turn, and give a little review of the features, usability and accuracy of their search facilities. I started yesterday with a look at The Times online, and now I'm looking at another News International owned newspaper site - The Sun online. Whilst I found The Times search experience to be on the whole good, the same cannot be said for The Sun online.
The Sun's search box is at the foot of a very busy front page.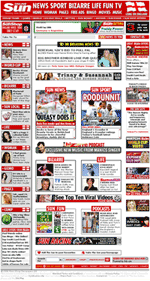 It offers a choice of searching over three areas - the archive, the shop or photosales. The choice is made by radio button, and there is no default selection made.

I performed a search without selecting a radio button, and hit enter, and found to my astonishment that the result set that I got back in a pop-up window for my search for "Blunkett resigns" was from the photosales areas of the site, and that the most relevant results were pictures of models Tracey Harper and Kathy Lloyd.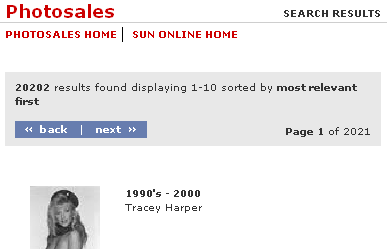 In fact, the results seem pretty random - the second time I executed the search without selecting a default I still got photosales, but this time Melanie, Holly and Nikki were apparently the closest matches for "Blunkett resigns"
Whilst this chimes perfectly with The Sun's editorial line that monsters and perverts who treat women as a sex objects should be banged up for life, but Page 3 is just a bit of "harmless fun", it didn't pass my "family-friendly search" criteria. Or indeed, more importantly, my "I'm doing this research in a busy internet cafe - please don't put naked female breasts on my easily-viewed-by-strangers screen without warning" test.
I returned to The Sun's homepage, this time actively selected the archive check-button, and again searched for "Blunkett resigns". The results page again opened in a pop-up, but this time informed me that:
Session timed-out
Your archive session has been terminated because you have been logged in for 20 minutes without using the service. Please type in your username and password to resume your session.

Wow, that was pretty much as bad a user experience as you could get.
I don't have a username and password, I hadn't logged into anything, and I had only been viewing The Sun's site for seven minutes at most, so on all counts the error message was wrong.
Anyway, the session time-out pop-up had a link through to The Sun Online's "Free Search", so I thought I would give that a whirl. The Sun makes available articles from the paper going back to 1996, although only subscribers can access the complete content:
Searching the archive is free. Our database contains articles from 1996 to those that are 24 hours old. The sample search will return one page of results matching your request, each result displaying the heading and the first paragraph of the article. The ability to retrieve an entire article is exclusive to our subscribers.
The free search presents the user with a complicated advanced search form. Options include varying the number of results displayed. This defaults to 100, but can also be set to 20, 50 or 200 using radio buttons. The date range for the search can also be selected. It defaults to 30 days, but other options include 90 days, 1 year and 5 years. There are also drop-down menus to fine-tune the start and end dates of the search range.
Finally I got to a results page.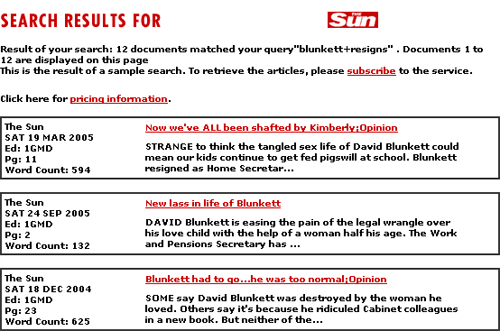 Search results include a title and an abstract, a date-stamp, an article word-count, and then some information that I'm not convinced is particularly helpful to the average searcher. It isn't entirely clear to me why it is useful to know on what printed page of the newspaper the article originally appeared on, or what edition it appeared in. Especially when the edition is represented by a code which I'm not sure anyone much outside of Wapping will understand - 1GMD.
I found the user experience to be astonishingly poor. I ended up with something like four different pop-up windows open - which firstly meant I had to allow The Sun to open pop-ups on my browser to use the search which leaves me open for their pop-up advertising if I visit again, and which also has implications for screen-reading and assistive technologies. I think the lowest point of the user-experience though was when the site was being very slow to respond to a search request, and the progress bar on my browser hadn't moved for a while. I re-submitted the query, and was promptly told off with this Internet Explorer dialogue box.
You have already submitted a search request, please wait

The Sun's search supports a wide variety of advanced search syntax, which is explained rather clumsily in their help section. This advice is also at times conflicting:
Punctuation
A search for good cop bad cop will find combinations such as the following: good cop/bad cop; good cop-bad cop; good cop, bad cop; good-cop bad-cop.

By specifying the punctuation of a phrase, the search is narrowed and finds the specific search term (including the specified punctuation).
So far, so good - yet the very next search tip is:
Apostrophes
Do not use any. If you use an apostrophe in a search term (O'Chee or Expo '88, for example), it won't help you find what you're looking for. Use Chee or Expo 88 instead.
Since when did apostrophes stop being punctuation?
The Sun's search also offers another feature - to search all the articles in one edition, which the user can specify by date. This then allows subscribers to the service to download everything from the single edition of their choice for the price of 'five credits' - however much that might be.
In the end though, since The Sun's search service is an attempt to get people to pay to subscribe to back issues and download articles, I was simply astonished at just how unusable it was. Even more so when contrasted with the excellent job that The Times Online seem to have made with their beta search product, given that they are owned by the same parent company.
Here is a summary of the features on The Sun Online's search
The Sun Online search - feature summary
Results per page
100 (also options for 20, 50 and 200)
Article excerpt or abstract
Yes
Date stamp (day/month/year)
Yes
Time stamp (hours/minutes)
No
Article word count
Yes
Navigational or Section information
No
Specifies original publication
Yes
Specifies original edition
Yes
Specifies original edition page number
Yes
Results display colour-coded
No
Search terms highlighted in results
No
Relevancy score (%)
No
Destination URL displayed
No
Sponsored links featured in results
No
Site offers web search
No
Default search
Photosales
RSS feed of search results
No
Advanced search options
Yes - very advanced syntax including boolean, <case> and wildcards
Search by date-range
Yes - options for 30 days, 90 days, 1 year and 5 years, plus drop-down menus to fine-tune date range
Tomorrow I'll be looking at the online search service of another of Britain's best selling tabloid newspapers, The Daily Mail
<added> This study took place during the 2006 World Cup, when The Sun was using a special masthead design - see this post for more details about The Sun's usual masthead. </added>