Gaining Online Advantage: Internationalisation and Localisation - part 8
This is page 8 of a 13 page article - 1 2 3 4 5 6 7 8 9 10 11 12 13


Download a print version of this article
Internationalisation and Localisation
I want to move on now to talk a little bit about internationalisation and localisation. Some businesses or organisations in the UK are very UK focussed, and some businesses in the UK represent the British part of multi-national organisations. Both present challenges in representing that orientation to different audiences on the internet, which is after all a global medium.
There are generally a couple of approaches that be taken to globalise or localise web content. Hewlett Packard and Sony are examples of a common way of doing this - when you go to hp.com or sony.com you get either the USA focussed site, or some kind of global portal to the company, with of navigation options near the top of the page to select your desired territory. Effectively you serve something up to the audience, and then empower them to make a decision or choice about whether the content is geographically relevant to them.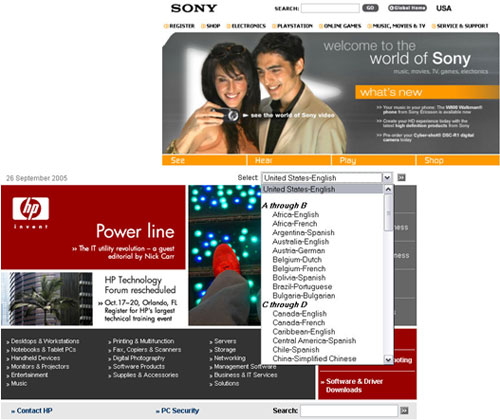 Yahoo! do something quite clever and more sophisticated. If you go to yahoo.com from the UK, they actually pick up where the request is originating from. Whilst they serve the regular content from the USA-facing .com site, in the toolbar at the top, in a nod to the fact that maybe I will want something more local, they promote the fact that they have a Yahoo! UK and Ireland service available for me. Instead of getting me to choose from a long list from Albania to Zambia, they've put my localised version one click away from me on the homepage.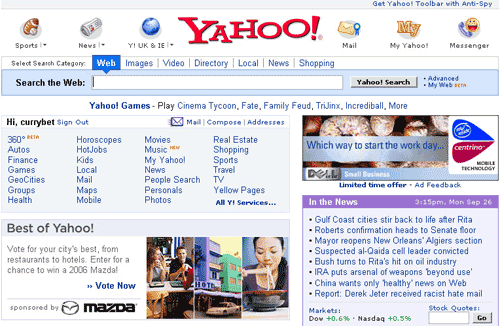 Google go one step further than this, which is to automatically re-direct you to the local territory from which you are accessing the service, so even a request for www.google.com from the UK will deliver the homepage at www.google.co.uk with UK specific options available to the user.
Increasingly companies are looking at this kind of location based content delivery technology. For the BBC it has been an important area to develop, because gaining the online rights to stream coverage of the Olympic Games for example, relies on being able to make a watertight restriction to UK viewers accessing the content.
Of course like many organisations the BBC faces issues when dealing with AOL users - for those that aren't aware, virtually all AOL traffic is routed through a network in the USA, and therefore can appear to originate from the USA to this kind of geographical location technology.
Continue to find out more about why you might want to provide different information to your audience depending on where they are visiting from.

Download a print version of this article