Vote for your favourite John Lennon track using our new system
This week BBC Radio 2 have a whole host of programming dedicated to remembering John Lennon. I don't suppose the 'Motown Junk' era Manics would have approved.
The nation's favourite Lennon track is being chosen via an online vote, and I'm pleased to say it is the first high-profile vote on the BBC site to be using the new Online Voting Application that my team have been developing.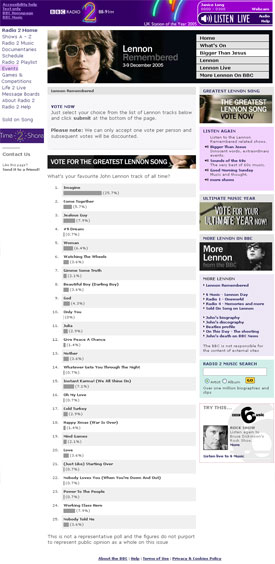 One of the joys of the system is that the majority of the layout of both the voting form and results page are controlled by CSS rather than via a HTML templating system. That means we can get very different look'n'feels for the votes, without getting into central template and asset management duties, which is one of the issues we had with the old system. I'm looking forward to seeing how creative our coders can be with such a flexible system.
It is also really good to see Radio 2 being willing to test what is still effectively a beta product on what is for them part of such a high profile season of programming.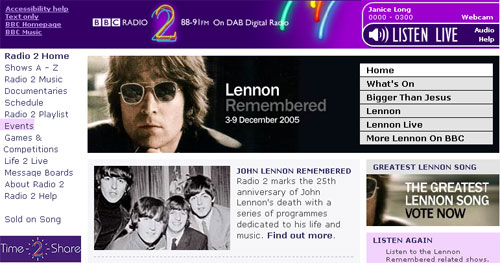 You may recall we started testing this system on CBBC, where it is still running, and this week you can also vote whether Arthur, Stuart Little, or Tracy Beaker would hold the best Christmas party.
Oh, and I opted for Instant Karma and Stuart Little in the end.
Come on, he is a talking mouse, how could his Christmas party go wrong?