No Becks Please - We're The Daily Mail
You have to love the Daily Mail. On page 15 today Simon Heffer wrote a new set of rights to "redress the balance" of human rights legislation. After a litany of the usual suspects - "the right to hear non-regional accents on Radio 4 occasionally", "the right of the public to know where their Prime Minister is going on holiday", and "the right to restrict entry to our country". He finishes with:
The right not to have to read about Mr and Mrs Beckham
Turn to page 30 (via a quick peek on page 23 in a family newspaper of a paparazzi shot of one of Sadie Frost's breasts) and there you'll find a nice big picture of the very same Mr Beckham as part of what I understand to be a "comedy" feature photoshopping Nancy Dell'Olio into famous pictures alongside an 'amusing' commentary in a faux Italian accent.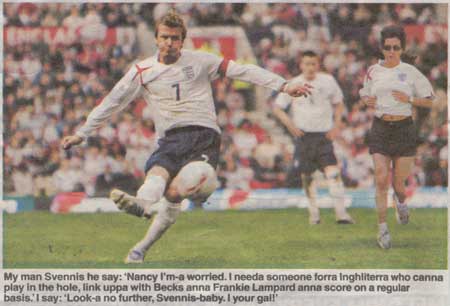 My man Svennis he say: 'Nancy I'm-a worried. I needa someone forra Inghliterra who canna play in the hole, link uppa with Becks anna Frankie Lampard anna score on a regular basis.' I say: 'Look-a no further, Svennis-baby, I your gal!'