Michael Sheard: 1940 - 2005

by
Martin Belam
, 31 August 2005
Sad news today for me and other Doctor Who fans, as Michael Sheard has passed away, aged 65.
He was mostly known for terrorising my generation on children's TV as the deputy headmaster of BBC school soap Grange Hill. He also played a part in the Star Wars universe, as Admiral Kendal Ozzel in the best of the movies, Episode V.
He was a regular on Doctor Who though, appearing in 6 stories playing against five different Doctor Who actors. He first appeared in 1966 in "The Ark" opposite William Hartnell. I remember him first in 1975's Tom Baker led classic "Pyramids Of Mars" - I know I was very little but with zombie mummies roaming through an English wood how could it have failed to make an early impression on me?
He also appeared in another couple of episodes I remember very clearly - one being Peter Davison's first broadcast story, "Castrovalva", which was the first time I had to deal with the fact that my Doctor had regenerated. His final Doctor Who appearance was in the Sylvester McCoy story "Rememberance Of The Daleks"* where he was an inspired casting as an evil headmaster taking secret instructions from his Dalek masters, when the series seemed to be on an upturn prior to cancellation.
He was one of the names, like Nicholas Courtney, who I was hoping would be associated with the new series - it would have been lovely to see him have a cameo in the upcoming 'School Reunion' episode. Sadly not to be.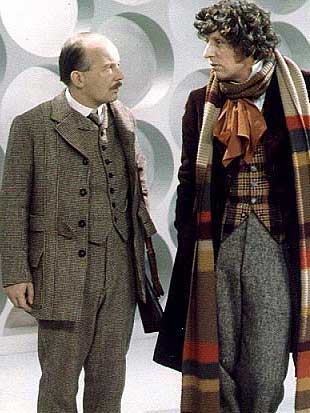 *Funnily enough, despite having 'Remembrance' in the title, it is the story that no journalist can remember, since it is the one that features a Dalek hovering up the stairs, and therefore ruins the inevitable stair-related punchline to their article.