Earlier this year I spent a week in Malta and Gozo with my wife and a couple of our best friends. We flew Air Malta, and this was the first airline where any of the staff have specifically said to me that it was forbidden to use my MiniDisc player, and that I had to switch it off. iPod's were OK though, so at least my new purchase will keep me entertained if I use them again. It made me laugh even more at Billie's "Nobody believes thats" quip about mobile phones on planes during "The Empty Child".
We had a late night flight (in fact in the morning we had done a Haunted Walk around Holborn) and so were then driven at midnight from the airport to Qawra where we were based. My first impressions were that the country was going to turn out to be beautiful. The roads were bordered by trees in blossom, and the domes and towers of churches were lit up all around. I also noticed the legacy of British Empire, we were driving on the left which I always find that slightly disconcerting when I am on the continent.
Our first day trip was to the capital Valletta. Our hotel, the Bella Vista, offered a little shuttle bus into the centre of Qawra, where we were close to the main bus station. Malta has a very efficient bus service, that still runs a selection of old British buses that look like they date from the fifties. Each driver seemed to be able to personalise their own bus, as they often carried transfers on the outside, and a variety of decorations inside.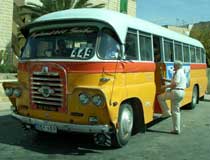 Valletta is a magnificent fortified city, with streets that sweep up and down a huge hill towards the harbour, meaning that the pavements have to be stepped. We didn't visit any of the churches or museums, but instead walked all around the city. Everywhere we went there were taxi-drivers offering us "half-price" tours of the city in carraiges drawn by horses, but we preferred to travel on foot. At one point as we walked past the theatre the sound of a rehearsing orchestra swelled and filled the streets - it was amazing and took us a while to pin-point where such a vibrant sound was coming from.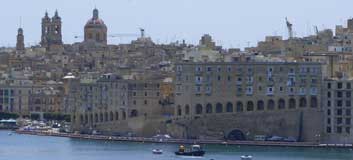 We made a stop at a place called the Popular Bar for a quick drink, as we were able to sit out on a forecourt in the centre of town. The bar had some very strange toilets. You went down some stairs into the basement, and then were in a cubicle with nearly an entirely glass ceiling, with some mesh to frost it. As you were in the bathroom you could hear the people on the street walking and talking, and watch them wandering by. Quite interesting, unless they of course looked down...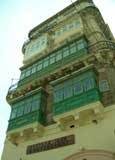 Later we stopped at a wonderful restaurant for lunch, La Sicilia. Set at the foot of another steep stepped street, Triq San Gwann, near Victoria Gate. You can eat outside on a little courtyard just behind gate. It is though the only place I have visited to have a pub quiz electronic game in the toilet, and bizarrely as the staff clear your table at the end of a meal they immediately scrape together the fish leftovers to feed to the plethora of cats that hungrily circled the tables.
Valletta's bus station is a massive roundabout, the centre-piece of which is the impressive Triton Fountain. It's always disappointing though to see old buildings scarred by racist and fascist graffiti, which was the case with the stairwells that you climbed to get up to the higher level of the city.

There was a great sign in Valletta, simply directing you to "The Pub". It is a pub simply called "The Pub", and was apparently the last place that notorious pub-lover Oliver Reed quoffed at before his death, whilst filming Gladiator on the island.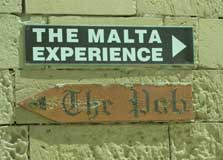 Our favourite sight in Valletta? A poster advertising a 'Rabbit, Cat and Bonsai show' which has to be one of the oddest combinations imaginable. How do you come up with a show like that - "Hmmm, we've got rabbits. And we've got cats. What we are really missing to make this a marketing coup is to add tiny trees"?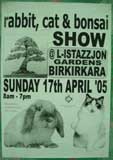 Our last minute package meant we were staying half-board, so for the first night we thought we'd try dinner in our hotel - which was pretty much a mistake and the only time we ventured it. Apart from one other couple we were by far the youngest guests in the hotel, it seemingly being an exclusive resort for the over-60's. This was the reflected in the menu, and I didn't feel I was getting an authentic taste of Malta whilst collecting my roast beef from the hotel carvery.
Whilst we were talking at dinner the conversation turned to the spiritual, and not-so-spiritual, with a discussion about mediums, and the bafflingly entertaining Derek Acorah from Most Haunted in particular, who notably in a recent episode had claimed that you would often see rabbits in the fields around a particular location, but these were in fact apparitions of dead souls. At that point my wife and I headed off to fetch our food. When we came back an old lady was deep in conversation with J. I was worried it might again be some comment about her colour, of which there were some from the British pensioners with us, but it turned out to be much stranger than that. The lady was herself a medium, and so then gave us a lecture on having an open mind about this things, since she had overheard our conversation. We felt a bit like naughty school-kids who had been busted swearing or something.
We then headed out to see what the local bar scene was like, and found a nice looking place with a pool in front of the Il Garra Restaurant. We had a very pleasant couple of drinks there, spoilt for me only by one idiot British tourist. All of Malta seems to operate a no smoking policy indoors, so the staff had to congregate around the door to have a smoke during their breaks. This was too much for the British guy, who insisted that they pose together for a photo so he could show the people back home:
What's coming our way. I tell you, it's the minority ruling the majority, this isn't democracy
The temptation to point out that even if all smokers thought it was OK to force people to inhale second-hand cigarette smoke in their place of work it would still be the smokers in the minority was strong - but I resisted.
We got back to the hotel in time to hear the last bit of the evening's entertainment - Curious Mario Solo. Despite certainly being very curious he had managed to get a few of the pensioners up dancing. During a particularly abstract rendition of "My Way" I remarked that if there was any justice in the world the spirit of Frank Sinatra would rise and strangle Curious Mario in the night. We were at the bar when he launched into a fake-keyboard-harmonica solo during a massacre of "Proud Mary" which caused me to actually have to leave the room.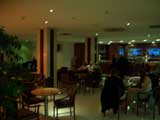 Not, of course, before we noticed the medium who spoke to us at dinner doing Flower Spirit Card readings with her entourage. V. & I left the bar saying that we would have to be lucky if we were going to get through the week without being forced into some reading clap-trap. Pleasingly for us the medium's husband was actually walking directly behind us. At that point it looked like the stay in the hotel was going to feel like a very long one.
We finished the night by playing pool and video games in what passed for the hotel's game room. The missus and J. played Puzzle Bobble, whilst V. & I played a frenetic two player shoot 'em up that was so old the tube on the monitor had failed to the extent that everything looked an unappetising hue of green. Actually not unlike much of the hotel's catering.