BBC.co.uk gets animated over Doctor Who
The homepage got all animated today in anticipation of the forthcoming series of Doctor Who - promoting the teaser trailer that is now available online.

It was a visual approach the team first took to promote last years webcast - Scream Of The Shalka - which featured Richard E Grant as the Doctor. At the time I was so excited I downloaded and resized the animated TARDIS image to use as the screensaver on my T610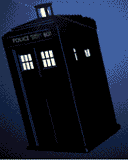 "Who's Who? The Resurrection of the Doctor" charts how the Guardian has covered Doctor Who since it was revived in 2005. If features interviews with Christopher Eccleston, David Tennant, Matt Smith and the men in charge of the show's fortunes: Russell T. Davies and Steven Moffat. It also includes interviews with a host of other Doctor Who actors including Billie Piper, Freema Agyeman, John Barrowman and writers including Neil Gaiman and Mark Gatiss. There are contributions from legendary author Michael Moorcock, Seventh Doctor Sylvester McCoy, and specially commissioned illustrations from Jamie Lenman.
"Who's Who? The Resurrection of the Doctor" - £2.99 for Kindle & iBooks.