Top 100 of 2004 Vote on the BBC Asian Network
Today the BBC Asian Network have been promoting their Top 100 of 2004 Vote on their homepage.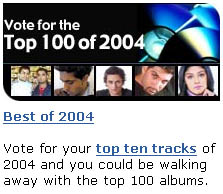 This is another in a series of end of year votes set up and produced by my team. The vote closes on December 24th, and the results will form a countdown chart programme for broadcast on New Years Eve.