So whilst BBC Fantasy Football clings on for its final season last knockings, today the Pure Soap site was dismantled - not so much with a bang, but at least with an amusing slice of self-deprecating humour.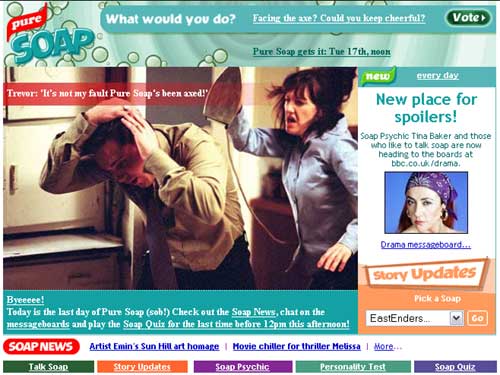 They offered one of the online vote's generated by a system that I look after. I'm glad that I don't have to handle the editorial side of things though, because my knowledge of soap beyond the Sunday morning Hollyoaks omnibus is zilch - the options of what users should do now were:
Talk soaps at an alternative location bbc.co.uk/drama
Wander around acting the martyr like Sunita-rella in Corrie
Roll over and die like Bately in Emmerdale
Book the axeman in for a trim with Enders' Chrissie 'Scissorhands'
See if the boss 'comes home early from the party' with Corrie's Dicky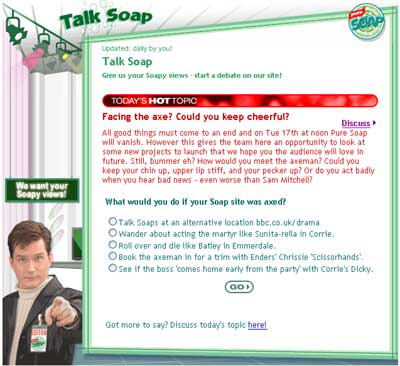 Which was frankly all Greek to me. After its' noon decommision, Pure Soap turned into a flash movie illustrating the smashing up of the site...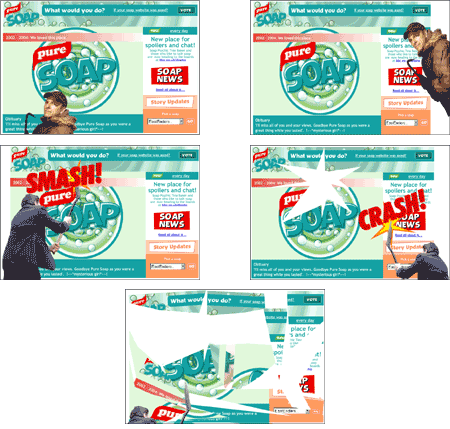 ...which finished with a page offering the audience alternative refuges, with a nicely prominent link to the BBC News story announcing the site's demise.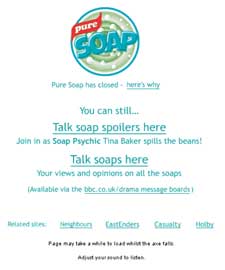 ...well it all made me laugh anyway.