Maybe the time has come for football's black power salute?
"It is very discouraging to be in a team with white athletes. On the track you are Tommie Smith, the fastest man in the world, but once you are in the dressing rooms you are nothing more than a dirty Negro." - Tommie Smith, September 1967
After the violent end to England's Under-21 match in Serbia, the subject of racism and football is back in the news. The two teams have history - a match in 2007 ended with similar accusations against the Serbs, who got a fine of around £16,000. Clearly not a deterrent, and you can't hold out much hope for change. When UEFA have been handing out fines this year, Bendtner got fined more for showing a sponsor logo on his pants at Euro2012 than Porto did for racist chanting by fans.
Today, it looks like Rio Ferdinand is going to be in some sort of disciplinary trouble with his club for not wearing an FA-sanctioned token t-shirt gesture against racism.
Club sides rally round any of their members accused of racism. They wear t-shirts defending them. They are happy to have them serve as their captain.
So why, when one of their number is so audibly being subjected to racist abuse from the crowd, is it so taboo to take collective action?
Sure, a team that walked off the pitch because one of their team-mates was being subjected to monkey chants would probably end up with a points deduction, and lots of hand-wringing from authorities, and pundits saying they should have "been the bigger men".
I've spent a lot of time over the last few years researching the history of dissent at the Olympics, and the actions, words and dignity of Tommie Smith and John Carlos at the 1968 Mexico Games are something that sticks in my mind.
But then at the time nobody white in the media or sporting authorities thought were doing the right thing.
The iconic image of those two men completely still, fists raised, with white Australian Peter Norman standing by their side wearing an "Olympic Project for Human Rights" badge, looks silent and serene.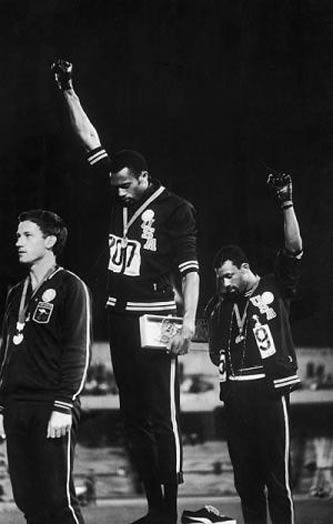 But when Gary Younge interviewed John Carlos earlier this year he explained:
"'You could have heard a frog piss on cotton. There's something awful about hearing 50,000 people go silent, like being in the eye of a hurricane.' And then came the storm. First boos. Then insults and worse. People throwing things and screaming racist abuse. 'Niggers need to go back to Africa!' and, 'I can't believe this is how you niggers treat us after we let you run in our games.'"
Maybe the time has come for football's black power salute moment.
However uncomfortable it will be.