The lost art of RSS reading
When I was teaching "So you think you want to be a UXer?" at the Guardian the other day, I gave a list of five websites that I thought were essential regular reading for any budding UXer. I suggested they pop them in their RSS reader to generally blank looks all round. I prompted for a show of hands, and out of a group of 40 people - who were all involved in making the web in one way or another - only a couple put their hands up to admit to using RSS readers.
I would say that I was shocked and appalled, except I wouldn't have put my hand up myself. My Google Reader account, which was subscribed to hundreds of feeds, has long lain dormant.
I was a massive advocate of RSS usage. When I resumed blogging in 2006 after several months break spent travelling, the first series of posts I wrote was a comparison of various different web-based RSS readers. At the times I was a Bloglines loyalist. FeedLounge, Rojo, Google Reader and (bizarrely) T3h Blox0r were the other services I toyed with.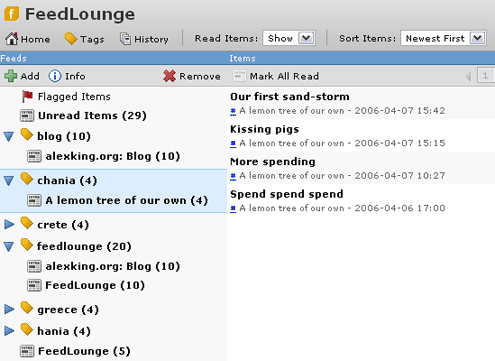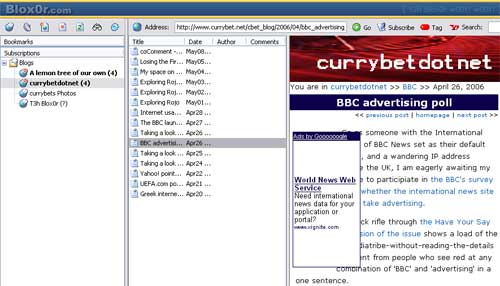 I also wrote several posts looking at which newspapers RSS feeds were most popular. My first brush with FUMSI, whom I later had an editor role with, was writing a piece about RSS feeds, which is now hopelessly out-of-date and behind their archive paywall.
At the BBC I pushed for the little orange RSS icon to be included on the BBC homepage, in the belief that getting it to appear in this prime location would help drive user familiarity with the idea.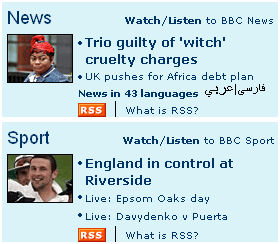 Yet, by the end of my tenure at the Guardian, I was advocating that the logo be removed from the Guardian site altogether, on the grounds that browsers auto-detect RSS feeds, and that should be enough for the niche power users who want to access them.
As a consumer proposition, I always found that once people realised what RSS readers could do for them, they loved them. But it was a hard learning curve. Clicking an RSS icon didn't take you to anything wonderful - browsers in the mid-2000s generally displayed a barely-styled XML document tree. Not the most welcoming of user experiences. To the uninitiated it looked more like you'd broken the internet than discovered its amazingly powerful hidden news delivery mechanism.
At the time the icon arrived at on the BBC homepage I blogged:
"I think the major uptake of RSS as an end customer proposition is still a long way off. We need to show people how RSS is useful to them. And probably give it a name that isn't a three letter geek acronym. My dad would understand a link marked 'Email the BBC'. I doubt he'd follow an icon that said 'SMTP/POP3 us'"
With social media, people now effectively make their own mashed-up feeds. The average user's Twitter stream or Facebook news feed is a rag-tag mixture of conversational snippets from their friends, interspersed with the brands and company presences that they've "Liked" or "Followed".
The principle of the stream of content that comes to you very much triumphed on the internet. It just wasn't RSS readers that packaged it right for the consumer.
Still, whilst I was teaching the course I was reminded of how much I enjoyed reading RSS feeds in the morning, and so I've set up a new sparsely populated Google Reader account, and I'm going to try and re-integrate it back into my daily routine. Instead of the serendipity link engine that my Twitter feed gives me, I'm going to invest a bit more time in reading a curated list of selected sources. It will be interesting to see what impact (if any) that might have on the link selection in my regular Friday Reading blog post.