You might have seen that the Usability Professionals' Association has rebranded as the User Experience Professionals' Association. Jason Mesut's diagram and Matthew Solle's fable about job titles make salient points more eloquently than I will. I'm just going to focus on one thing.
I've got a great deal of time for people who volunteer to run organisations for members, and I've had a long relationship with the UPA. I first spoke at a UKUPA event back in 2003 with Mags Hanley, and I've given talks for World Usability Day - "No more 'us and them': How 20 years of digital comms smashed the boundaries between media & audience" - and at last year's UPA conference in Atlanta - "Changing the Guardian through guerilla usability testing".
Maybe I'd feel differently if I was at the UPA UXPA conference and was clutching my nicely newly branded water bottle, but I'm not. I'm outside. My face pressed up against the glass.
And if you visit the UPA website, right now, 24 hours after the announcement, there isn't a single mention of it.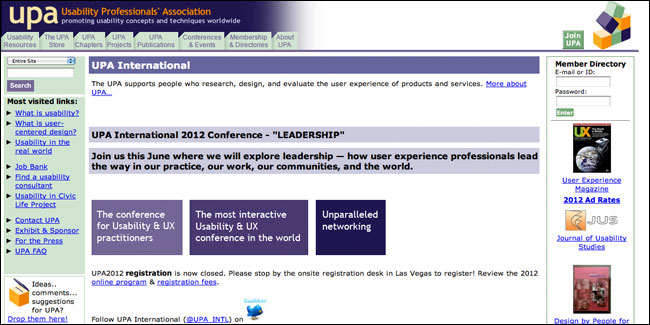 I thought I'd search the site for some information, and a search for UXPA yields two documents, both from 2004. Neither of any relevance.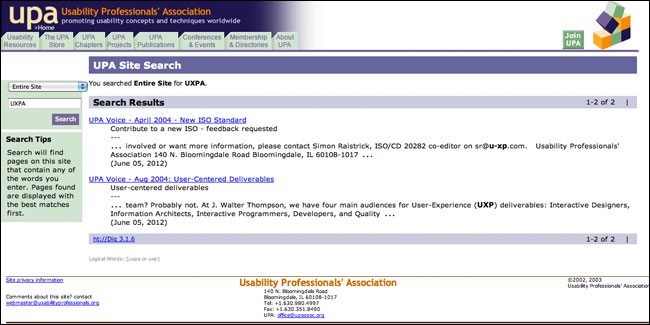 And what looks like the URL for the new site is a domain parking page.

So let's get this straight. For thousands of professionals around the world like me, you just unilaterally changed us from being non-members of an organisation aimed at usability professionals, to being non-members of an organisation that claims to represent us.
And you didn't think to leave a note on your website about it?
Holy WTF Batman.
How do you think that feels as a "user experience"?