Frictionless or not, on Facebook or not, people love to share on the web
The release of 60 new apps that employ Facebook's "frictionless sharing" has sparked another round of internet debate about the value of the functionality, and the shift to getting users activated on the site's new Timeline design.
A poll by Sophos suggests many users are unhappy with Timeline and Philip Landau posed the question on the Guardian's work blog: What if Facebook Timeline was read instead of your CV?.
Nick Bradbury blogged about how actually more friction is added to the sharing process, but that doesn't seem to have stopped 5 billion song plays being shared. Whatever that means.
Predictably, Charlie Brooker's rant about "frictionless sharing" - "I'm all for sharing, but why the online obsession with revealing every detail of your life?" - has performed very well within the Guardian's Facebook app (which I worked on), as his content always does. Any why wouldn't it? The "frictionless sharing" effect amplifies articles that have become popular, driving even more users to read them, and share them.
Away from the app, in the space of 24 hours, over 1,000 people have voluntarily clicked the "Recommend" button on the article when viewed on guardian.co.uk, sharing Charlie's woes about over-sharing with their friends. And nearly four hundred people have shared their feeling in the comments about it.
Frictionless or not, on Facebook or not, people love to share on the web.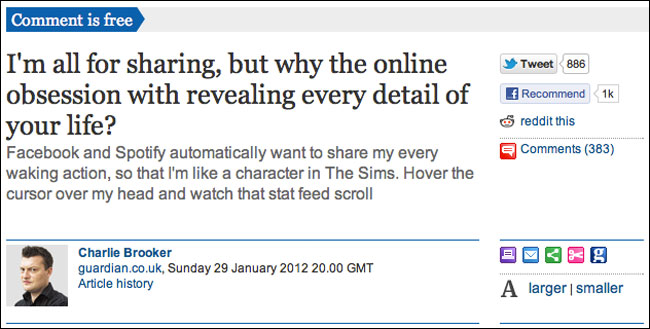 Paul Sutton wrote on Future Comms that the system represents "the Gruesome death of choice" as Facebook introduce "60 new Timeline apps that work BY DEFAULT UNLESS WE TURN THEM OFF." His Caps Lock, not mine.
My colleague, Meg Pickard, by contrast, has written a post explaining some of the clear options around "frictionless sharing", not least of which being that installing them is an act of choice itself - "Meg Pickard just published a blog post about frictionless sharing and Facebook."
One issue that keeps coming up is that the presence of "frictionless shares" diminishes the value of things that have been deliberately shared. These apps push an "action" into Facebook's data centres, and the UI of presenting that back to users is up to them. You can see that Timeline displays the two very differently. I don't think the aim is to replace the active share, but it is to add another set of actions into Facebook's graph - of much less value than a comment, less value than a "Like", but of interest nevertheless.

If you are interested in finding out more about the Guardian's Facebook app, I'll be talking about it on Friday at news:rewired, as part of a panel session on "Social Media Optimisation" alongside Wired's Nate Lanxon, the BBC's Chris Hamilton, Kevin Anderson and MSN's Darren Waters. I'll be publishing the notes from my talk on this website on Friday.
And, talking of Facebook, I'm experimenting with a page to bring together all of my writing output from sources like this site, FUMSI and TheMediaBriefing. You can find it - and hopefully "Like" it - at facebook.com/currybet.

This is Martin Belam's personal blog. The views expressed are my own, and do not reflect the views of Guardian News and Media Limited, or any current or former employers or clients. Read my blogging principles.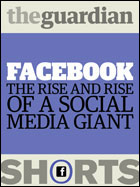 "Facebook: The rise and rise of a social media giant"
Edited by Martin Belam
In February 2004, whilst at Harvard, Mark Zuckerberg and friends created "The Facebook". What started as just a website for one university has become one of the dominant forces on the internet in the early 21st century. The simple idea of connecting people together into networks of friends sharing their personal details has made Mark Zuckerberg, on paper at least, one of the wealthiest men on the planet. This is the story of the rise and rise of Facebook, as told in six years of original journalism, writing and comment in the pages of the Guardian and the Observer.
"Facebook: The rise and rise of a social media giant" - £2.56 for Kindle & £2.99 for iBooks.