"Don't be a dick" - the golden rule of news website comment threads
Someone made a point in a Guardian comment thread the other day that our community standards were a bit over-long. I happen to think that if you take most community management guidelines or blogging and commenting guidelines for staff, they basically boil down to "Don't be a dick".
In fact, I think there is quite a simple flow chart to follow if you find yourself on the wrong end of a moderation decision on a news website.
First, ask yourself, "Was I being a bit of a dick?".
I'd define dick-ish behaviour on a news site as including, but not restricted too: personal attacks, using "amusing" clichés like EUSSR and Tony Bliar, making the same off-topic point day after day, being rude and grumpy and unwelcoming to newcomers, mocking other people's spelling, bullying and hectoring staff and journalists appearing in the comment threads, asking "is this news?" on a story you are not interested in and which nobody forced you to read, hate speech, "ironic" hate speech, anything that might now or in the future potentially land the publisher in legal hot water, and any comment which includes the phrase "I don't suppose the moderators will publish this but..."
If the answer is yes, you think on reflection that you were being a bit of a dick which is why you got moderated, then, fair play to all, and let's move on.
If on the other hand, you don't think you were being a dick, there is a secondary question.
When you got moderated, did you:
A) Shrug your shoulders and think, "Oh well, it was just a comment on a news website"
Or did you
B) Flounce back onto the comment thread demanding to know why your comment has been removed? Accuse the publisher of censoring you or restricting your freedom of speech? Insist you should be given a personal reply from the moderation team which will cost a business time and money, even though you registered and left a comment on their site for free? Demand an inalienable right to publish whatever you want on someone else's website, even though they are a known legal entity that can be sued, and you are signed in with a pseudo-anonymous nickname and are using an edgy avatar image which you don't actually own the picture re-use rights for?
If the answer is 'A', then great, you seem to be a well-balanced individual who found being moderated a bit annoying but not the end of the world
If, on the other hand, the answer is 'B', then I'm afraid I have to tell you that you are, frankly, coming across as a bit of a dick.
And I think we've established that this is against the guidelines...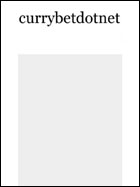 "currybetdotnet: Best of the blog 2011" brings together over 50 of the best posts on this blog from 2011, covering topics such as live blogging, community and social media for news websites, and the future of digital media. It features write-ups of talks by Guardian journalists including Paul Lewis, Matthew Wells, Andrew Sparrow and Chris Elliot, and behind the scenes looks at Guardian products like the Facebook and iPad apps. It also has transcripts of Martin Belam's talks at EuroIA, the UPA conference, Polish IA Summit, Content Strategy Forum 2011, FutureEverything and Hacks/Hackers London.
"currybetdotnet: Best of the blog 2011" for Kindle is £1.92.