Has Jan Moir hastened reform of how the PCC handles 3rd party complaints?
None of my many, many, many, many, many moans over the years about the editorial content and tone of the Daily Mail have ever gained the kind of traction we've seen over the last few days on the internet over Jan Moir's article about the death of Stephen Gately.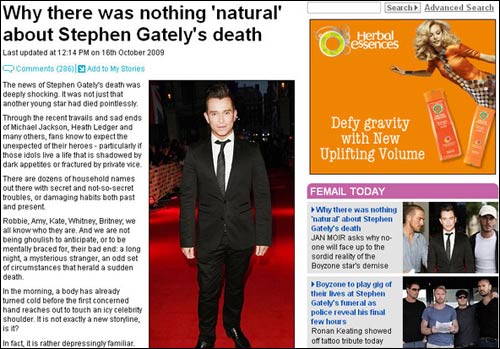 One response I've seen made over and over again is that, in a country with freedom of speech, Jan Moir is perfectly entitled to express her views.
And I agree with that.
I'd fight to the death to defend her right to spout vile homophobic bigotry at dinner parties up and down the land.
However, once you publish those views in a newspaper which adheres to a code of conduct, the rules change.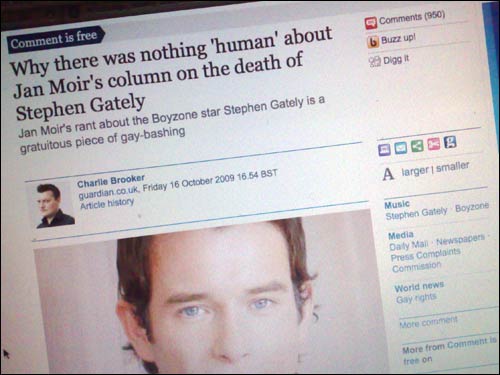 Surely the main thing that should differentiate the content produced by a news organisation and the content produced by bloggers, blowhards and pub pundits, is that news organisations have a set of public principles under which they operate. Whether it is the BBC Editorial Guidelines, PCC Code of Conduct, or Ofcom's rules of engagement, to make any claim that the 'fourth estate' is more valuable than the 'fifth estate', media must hold itself up to a higher standard of accuracy and fairness.
Of course, complaining to the PCC in this instance is likely to lead nowhere.
I already established earlier this year that even in cases of clearly poor taste, unless I'm a member of family of the girl involved, holding a 13 year old girl up to public ridicule and publishing comments from readers calling her a slut is perfectly acceptable. The PCC's initial response on Jan Moir has been pretty weasel-worded, and, unless Stephen Gately's family do complain directly, I'm extremely doubtful that we'll see any kind of ruling against the paper. Other approaches may yet prove more fruitful.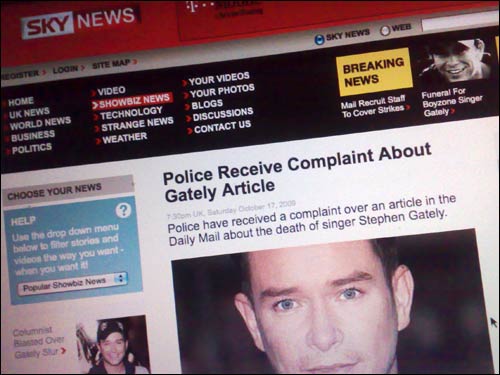 Perhaps the most useful thing to come out of this will be wider public awareness of just how ineffective press self-regulation is about handling complaints on the grounds of taste and decency when widespread offence has been caused to an audience not directly involved in the story.
However, by far the most disappointing aspect for me of the public outcry over the article has been the attitude to women on display. Search Twitter for combinations like '#janmoir slag', '#janmoir whore' and '#janmoir bitch' and you'll find plenty of examples of people who are so outraged by homophobia that they need to resort of misogyny. Way to keep the moral high ground...
Now, I don't know how web savvy Jan Moir is, but I did like her 'if they've even read it' aside in her response to the outcry:
"However, the point of my column-which, I wonder how many of the people complaining have fully read - was to suggest that, in my honest opinion, his death raises many unanswered questions."
It made her sound like one of those old school newspaper people who are genuinely surprised that their articles also appear on the web and can be linked to and read without purchasing the paper.
The events surrounding Jan Moir's article may seem like some karmic comeuppance for the Mail. It was the paper that led the campaign that saw 2 complaints about Russell Brand from people who had listened to his show swell to tens of thousands, mostly made by people who had read about it. I'm also wryly amused by the fact that the Mail is happy to lift and misquote partial comments from someone else's message board to show the true depth of public feeling on an issue, but a series of highly critical comments on their own website is dismissed as part of a 'mischievous' and 'heavily orchestrated' Internet campaign.
However, I believe that this kind of swirling vortex of Internet complaints around a single hot topic is not going to go away, and in fact there is very little to separate the mob frothing at the mouth about 'Sachsgate' from the liberal outrage at Moir's homophobia. Tomorrow I'll have some thoughts on how brands can prepare themselves for dealing online with becoming the centre of this kind of storm.