"Breakfast with the Voicebot"
On Tuesday morning I visited Sidekick Studios near London Bridge to have 'Breakfast with the Voicebot'.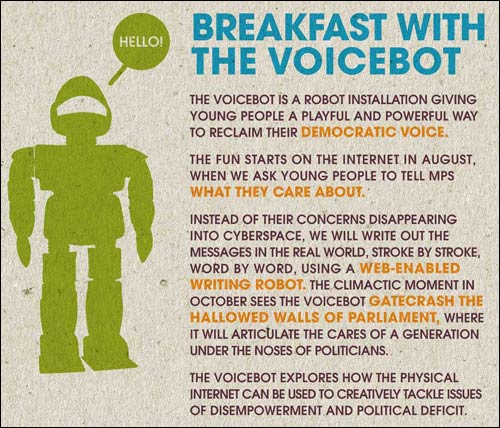 The robot looked somewhat less human than the illustration on the invite. To be honest, it didn't look like it was capable of wrenching itself free from its base and going on a strangling and mangling rampage, which I always find slightly disappointing when I've been promised a robot.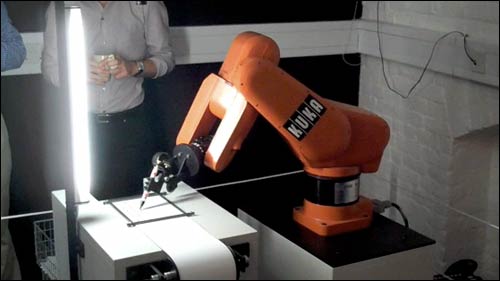 It is the type of machine usually used on car production lines to perform menial tasks like tightening screws, but this one has been persuaded taught programmed to write. It receives messages via the internet, and then delicately writes them out with a felt-tip pen onto a card, which it then cuts.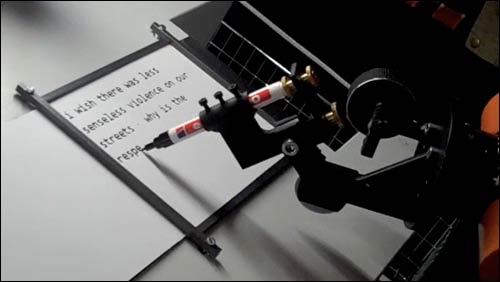 The idea is to get young people in touch with politicians. Sidekick Studios have built the robot for V, the national youth volunteering organization, and it will be moved to Westminster as an installation for politicians to see the messages that have been sent in. Before the people at the demo got hold of it and started making it write silly things, the serious issues young people were concerned with included the war in Afghanistan, knife crime, and body image. All of the data is available on the Voicebox website.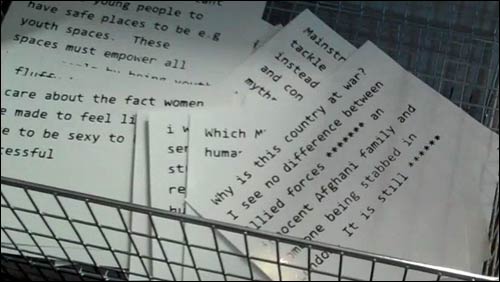 You can watch the robot in action in this video clip I made whilst I was there.