International Social Media Summit in London
Last week I was at the International Social Media Summit hosted by WebCertain at the British Library. Here are some of my highlights from the day

Panel debate - Facebok vs Google vs Twitter
This was a great format to kick start the afternoon after lunch. Andy Atkins-Krüger, Kristjan Mar Hauksson and Dixon Jones each defended one of the web giants against the others, to argue that they represented the future of marketing. They'd jumbled up their slides into a random deck, which gave proceedings a knockabout air of spontaneity.
Dixon Jones at one point argued that "Google is only good for organizing information". Speaking as an Information Architect, I have to say that seems to be a pretty laudable aim in itself, and there is no 'only' about it!
Other great quotes from the session included "Twitter is just a giant link spam machine", "I think the moon is a limited market for Google, there is a high barrier to entry" and, more seriously, that "Twitter followers are becoming the PageRank for conversations"
My favourite quote of the day overall probably came from Vasco Sommer-Nunes of Mokono though. In his session he said:
"As we all know, Germany is the desert of the blogosphere"
"International blogging" - Sante Achille
Sante Achille presented a great case study into niche blogging. Almost by accident marymade.it hit upon a winning business formula. When they had started their blog, it was a very simple e-commerce blog proposition. Then, they noticed that one particular post about a customised wedding cake-topper was gaining a lot of attention.
From there the customised wedding toppers have become one of the mainstays of the business. They have average conversion rates between 5%-10% for the blog content, and that then translates to 30%-50% sales. People ask for the toppers to be customised to reflect the dress, haircut, dogs, children and motorbikes belonging to the happy couple. As well as the blog, they maintain a Flickr presence to show off the creations.
"Global social media trends" - Tom Smith
Tom from Trendstream gave a really interesting and data rich talk about the emerging trends in social media which he claims are helping to reorientate the Internet towards the East. He suggested that a lack of ingrained web behaviour in emerging markets meant that new social media forms were being taken up faster, and that the mobile device was becoming key. He cited a year-on-year increase in mobile web browsing in Nigeria measured at 4,000%, and in Chile 3,200%.
And English is not the future language of the "new social order" - Chinese is. A site like QQ.com is virtually unheard of in the West, but is a portal and social platform which has more than 300 million users and, just as importantly, it is profitable.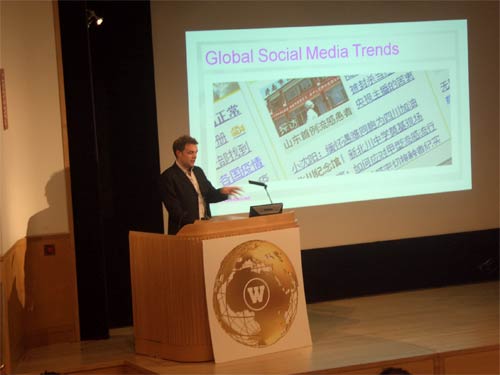 Tom described global social media as an international network of strangers, and showed that people now trust their online connections almost as much as they do their face-to-face friends and family. Significantly, they also trust good contacts on a social network, and consumer reviews on a retailer site, much higher than traditional professional sources of information.
"Social media marketing: a new mindset for the contemporary marketer"
Massimo had a fantastic set of slides that I was extremely jealous of. He was explaining how the rise of 'user-fuelled branding' meant that marketers needed to change their approach. He stressed that the ability to listen was going to become the killer tool for online marketing.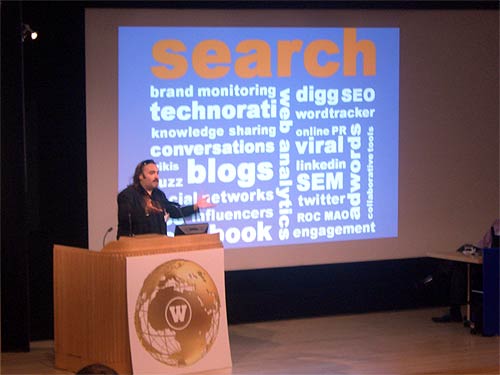 He argued that instead of rushing in and building a Facebook application, it was probably better to just hang out on Facebook for 6 months getting to know your customers and audience. He also maintained that you needed 'passion' to do the job well, and that he did not take on clients whose products he couldn't be passionate about because he knew he wouldn't do as good a job as he should.
Massimo also had the best slide transition of the day in my opinion, turning old fashioned "ROI" into a new mantra of "RIOT".
"How major publishers are using social media to drive traffic" - Martin Belam
At some point In the next couple of weeks I'll be publishing on currybetdotnet a series of articles based on my presentation at the event. In the meantime, here are the Star Trek themed slides from the day.
Fortunately, when I asked the audience if there was anyone unfamiliar with Star Trek, only a couple of people put their hands up...
Final panel
After my presentation, I took part in the final panel session. The first question directed at me was the almost inevitable "If News International are going to start charging for their content, and you are giving yours away free via your API, one of you must be wrong?".
I genuinely think the two positions are closer together than they may at first appear - I think the issue is not what you do with your content, but about being in a position to use your content on your own terms & conditions, not those imposed upon you by a third party.
Massimo Burgio also then led a discussion getting people to confess social media failures. There were a range of these. I cited the BBC's Points of View message board and blog culture clash as an example of how a community likes to dictate what channel they are addressed in. That row is still rumbling on by the way.
Dixon Jones chipped in from the audience with a great example of a company who had a negative campaign about them on Facebook, who couldn't do anything to monitor it or respond to it, because their corporate IT policy banned Facebook.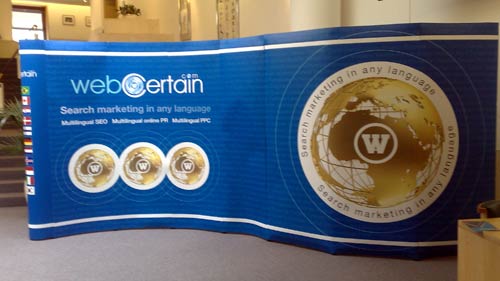 Next...
I had a good day there and met some interesting people. The next event I'm attending is on Wednesday, when I will be at a panel hosted by MTM London discussing the future of newspapers in a Digital Britain.