Press silence on Alfie Patten DNA test result broken by Google News
Yesterday, The Mirror was reporting a further development in the story of the 13 year old boy named as a father. The initial coverage of this story was a significant factor in boosting The Sun from #5 to #1 in the UK newspaper online charts.
Today, The Mirror has pulled the story from their site. It is an interesting test case of whether legal deletions should also cover SEO-orientated keyword stuffed URLs. They might have pulled the story, but I can still read the headline on the resulting 404 page.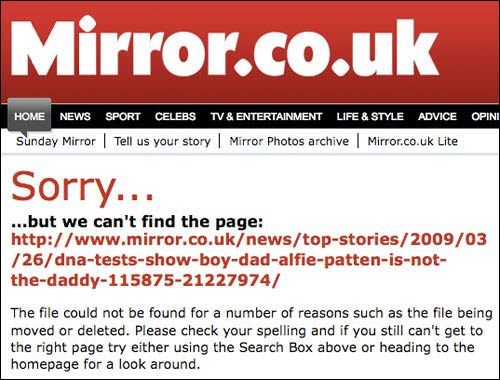 They have also had it removed from Google's cache.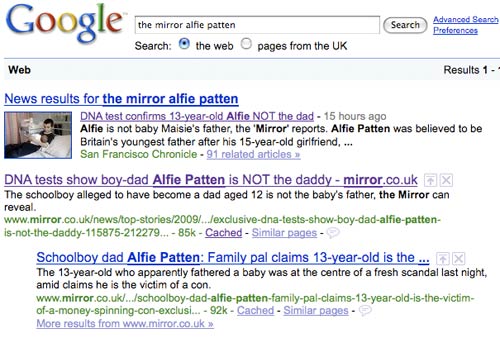 However, if, following the Barclays / Guardian tax spat you wanted further evidence that our court procedures over the press are a bit broken in the digital era, you only need to pop the name of the boy into Google News UK.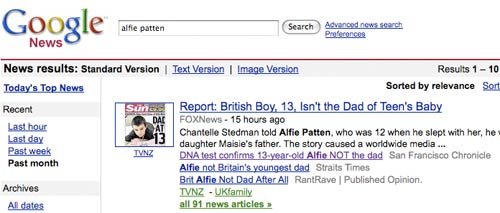 Although the British press are maintaining a court-enforced discrete silence on the issue, Google, at the time of writing, had 91 articles from around the globe repeating what The Mirror has said.
The San Francisco Chronicle's 'Mommy Files' blog, for example, has a big chunk of verbatim text from the article, and is still able to publish pictures of the lad and the baby at the centre of the story.
Still, as I observed on Twitter yesterday, luckily for The Sun, neither DNA tests or court orders can retrospectively take away record page impressions.