FIFA 2010 World Cup qualifying website review - Wales

During the course of this World Cup Qualifying campaign, I've been reviewing the Football Association websites of England and their opponents. And when England haven't been involved in competitive action, I've been looking at the websites of the other 'home' nations. So far I've looked at Scotland and Northern Ireland, and today it is the turn of Wales.
Wales have a crunch match this afternoon against Finland. Anything other than a win is almost certain to consign the Welsh to another failure to appear in the World Cup Finals. They've only been once, in 1958 in Sweden. Then they qualified by virtue of a special play-off with Israel, after finishing second in their UEFA qualifying group. They did themselves proud in Sweden, and achieved a quarter-final finish, only losing out to eventual winners Brazil.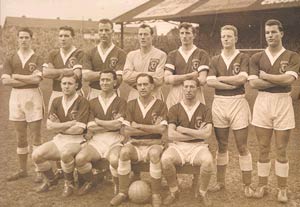 Wales are also responsible for my first traumatic memory of England in action. I can very dimly recall the Tartan Army smashing up Wembley in the 1970s, but the 4-1 mauling in Wrexham in the Home Nations series in May 1980 is my earliest memory of sitting and watching an England performance on television in utter disbelief. The first of many it transpired.
Football Association of Wales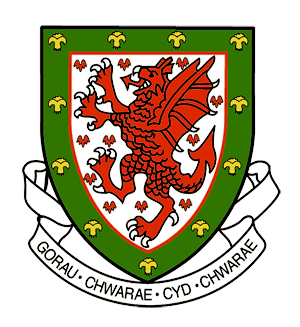 The Welsh FA website has a vibrant and neatly compact design. There are links in the banner area to increase font size, and the site is available in both English and Welsh.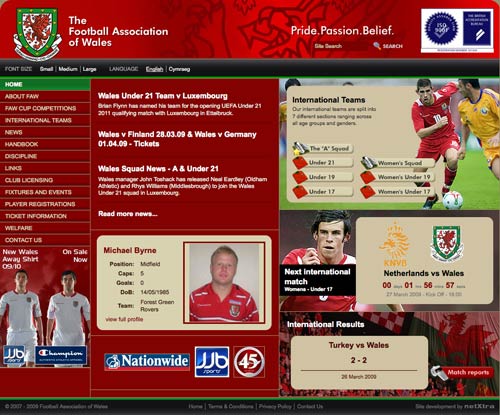 As you'd expect, there is a lot of coverage of the various representative teams of Wales, including penpics of the current senior squad with individual profiles.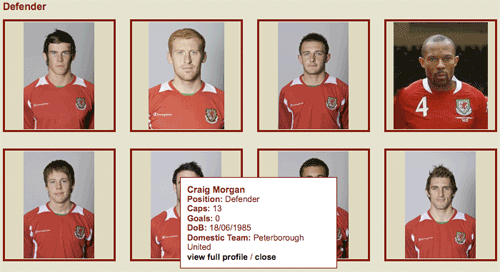 However the navigation also has a lot of links to the bureaucracy of running football. Links to things like a programme of licensing clubs, and the results of the latest disciplinary proceedings are prominent.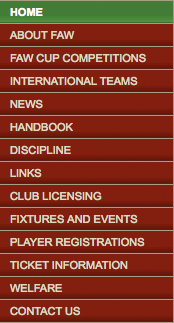 One thing I did find a bit odd was that the site published comprehensive bilingual information about the ticketing arrangements for forthcoming matches - but only in PDF format.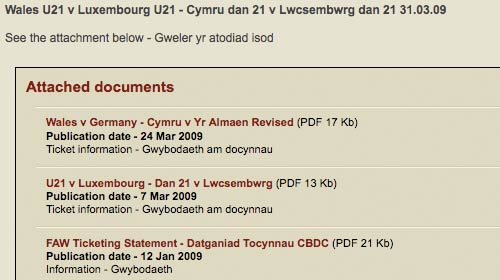 On the plus side, contacting the FAW seemed very easy. There was a form to fill in, or you could email directly, and they even listed the individual extension numbers for different departments and members of staff.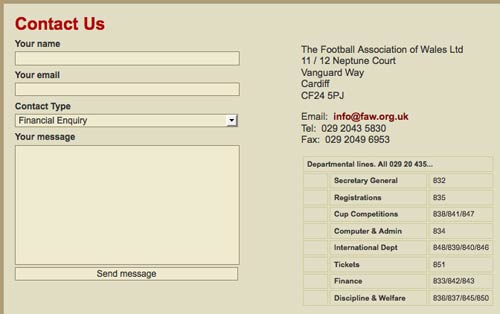 Social bookmarking, social media and search
Individual news stories do not come equipped with social bookmarking links.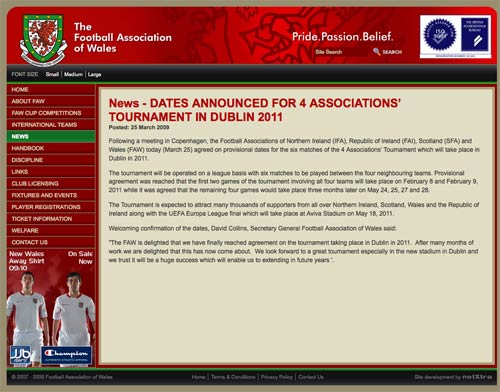 The site, in common with the vast majority of football association websites that I have reviewed, does not seem to carry any user generated content at all.
One interesting thing though is that there is no global site search box in the navigation. Instead, a search box is provided at the top of the reverse chronological list of latest news.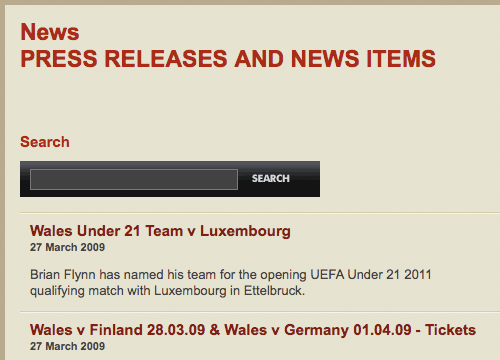 RSS and Video
More unusually, the site has no RSS feed of news, nor does it appear to carry any video content.
On Wednesday Wales face Germany in another World Cup Match, and when I reviewed the German FA site for Euro2008, they had extensive video content about their national team. I think this just goes to show how the finance gap that is affecting club football also affects the international scene.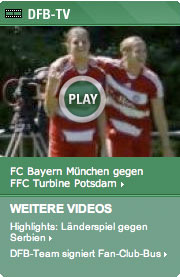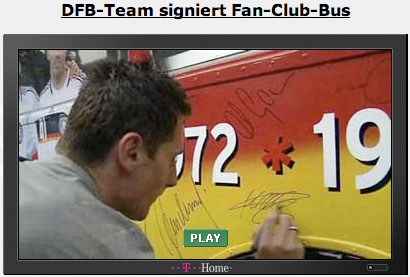 Next...
On Wednesday I'll be reviewing the website that belongs to the Федерація Футболу України, as England, with a 100% qualifying record so far, face Ukraine at Wembley.