Why the PCC is broken - a case study in trying to complain
So there has been a debate this week about whether the PCC in this country needs reform.
Here is a little case study.
On Monday, the Mail Online published an article "Pupil reduced to tears after teacher tells her: That short skirt makes you look like a slut and does nothing for your cellulite".
The story is accompanied by a picture of the named 13 year old from a named school, modelling the skirt in question. Here are some of the comments left below the picture by the Mail's online readers:
"What on earth is wrong with this country? The child DOES look like a slut"

"None of this would have happened if the student had done what the teacher said. By the way, with that short skirt, she does look like a slut"

"Well, the skirt is far too short for school and does make her look slutty and dumpy too."

"Actually, she does look like a slut with her skirt so short."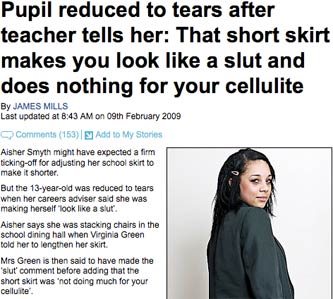 Section 6 of the PCC code of conduct says this:
"6: Children
i) Young people should be free to complete their time at school without unnecessary intrusion. "
Quite how publishing pictures of a named 13 year old in her school uniform and inviting readers to discuss whether she looks like a slut or not squares with this clause of the PCC code of conduct I'm not sure.
And given the usual UK press zero tolerance towards activity that might encourage paedophiles, I think it is pretty reprehensible behaviour to name and locate the school of the child in question. The story could have easily been covered without revealing those precise details. You can Google her and find her on Bebo now for example.
And, seeing that the whole story is about how distressing she found it to be called a 'slut' by a member of teaching staff, I can't imagine that she is thrilled at being called a 'slut' by dozens of Daily Mail readers online, and that the Mail's moderators then passed those comments as fit for publication.
So I complained yesterday to the PCC that this piece clearly breached article 6 of the code of practice, and put those points to them.
The response?
"Dear Mr Belam,
Thank you for your email.
I should emphasise that the PCC will normally only consider complaints from people who are directly affected by the matters about which they are concerned. Indeed, only in exceptional circumstances will the Commission consider a complaint from someone not directly involved.
In this instance, an initial examination of your case suggests that you are a third party to the complaint."
So there you go - they don't even look to see whether the article breaches the code, my complaint is just discounted at the first hurdle. I'm not her or her parents, therefore I am not qualified to judge whether I think this article and the published comments contravene the industry's own self-regulating standards. Because of the lack of transparency over their data, I'm not sure whether this counts statistically as a 'resolved complaint' for their records - or if it even counts as a complaint at all.
Yet Sir Christopher Meyer seems surprised that anyone could possibly even begin to think that there was something wrong with this system...