Gary Lineker isn't leaving comments here
I got very excited the other day when Greg The Bunny left a comment on currybetdotnet, and then again, briefly, when I thought that Gary Lineker had.

For a split-second from the summary, I though he had left a comment trying to put his side of the Kewell vs Lineker dispute by linking to his official site.

(If you'll remember, Harry Kewell sued Gary Lineker for defamation, which they settled out of court. At the time it caused me, not necessarily a bitter Leeds United fan, to wonder aloud whether football fans, not necessarily from Liverpool, could sue stars, not necessarily from Australia, who didn't perform to the standard of their expectations under the Trades Descriptions Act)
Sadly it turned out that the Gary Lineker commenting on my blog was just a spammer masquerading as the top scorer from the 1986 World Cup Finals.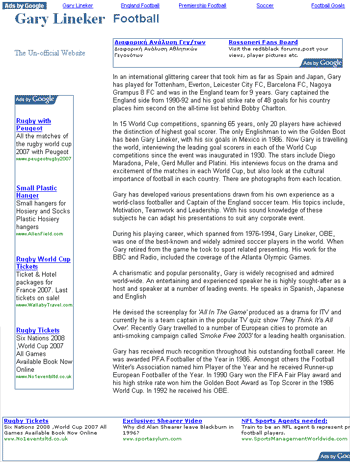 The site they linked to was simply a one page made-for-AdSense Google honeypot, with even the navigation at the top of the page made out of Google adverts. A quick Google search for the text soon turned up that even the meagre amount of actual content on the page is ripped off from Gary's biog on a legitimate site selling his after-dinner speaking services.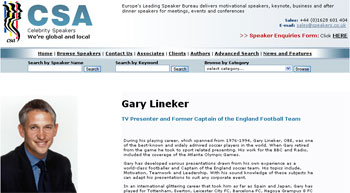 I would have thought a decent reputation management lawyer would have a good chance of wresting the garylineker.co.uk domain name from the spammer, and putting it to better use.
And now that I come to think about it, whilst I've got no doubt about the veracity of Greg The Bunny's contribution, I'm not sure that the Simon Le Bon who once left a comment on here agreeing with me when I was slagging off Sony's DRM solutions was legit either...