iTunes Miniatures playlist
Back in 1980, Morgan Fisher curated an album called "Miniatures". It consisted of fifty-one tiny tracks by various artists including people like Kevin Coyne, Michael Nyman, Ivor Cutler and Robert Fripp. Everything on the album was under a minute long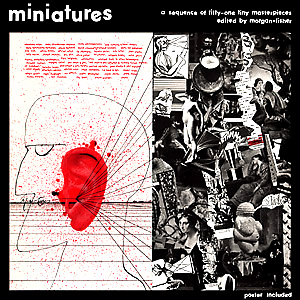 I've recently hit upon the modern digital DIY equivalent - making a microtunes "Miniatures" playlist on iTunes - although I did have to extend the time limit slightly.
I sorted my music library by track duration, shortest first, and the result is that I now have a playlist of 200 perfectly formed tunes, not one of which is a second over two minutes long.
The 120 second time limit doesn't mean it is all obscure or incidental stuff. Of course, there are some miniscule digital warblings from the likes of Boards Of Canada, but there is also some pretty mainstream stuff that clocks in at two minutes or under.
The Beatles, The Beach Boys, David Bowie, Elvis Presley, The Everly Brothers and the Rolling Stones all contribute tracks.
Quite a few of the early Beatles tracks fail to reach two minutes, but I've opted for the version of "Glass Onion" from the 'Love' remix album, as well as "Mean Mr Mustard" and "Her Majesty" from Abbey Road. From the Beach Boys I have "Looking At Tomorrow (A Welfare Song)" from the classic "Surf's Up" album, whilst it is Berlin era "Breaking Glass" from David Bowie that makes the grade.
There is plenty of punk as well - the playlist opens with "White Riot" by The Clash, and it also features latter-day punks Green Day, and plenty from the angular 1970s first incarnation of Wire.
Nirvana and The Pixies also have some of their best tracks lasting less than two minutes on the list - "Polly" from the former and "Tame" from the latter.
Oh, and there is a pleasing wealth of the more obscure in there as well - Swell Maps, Those Naughty Lumps, Switchblade Symphony, Olivia Tremor Control, Archie Bronson Outfit, Last Harbour, Sigmatropic and the perfectly titled 56 second blast of "I Am The Alphabet" by Black Moth Super Rainbow, a track you are guaranteed to hear if you ever see me when I'm DJing.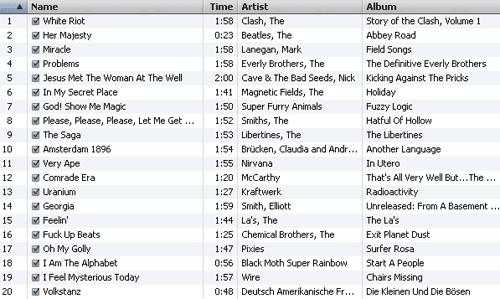 Last.fm hasn't been quite so impressed with the list though. On a couple of occasions it seems that trying to submit several 20 second tracks all claiming to have been played in the same minute has triggered a 'spam protection' warning on my profile.
The original motivation for making the list was that it only takes me two minutes to walk from the house to the apartments at the bottom of our road where I can now get broadband wifi access. I was fed up listening to half of a longer track each time, so I wanted a collection of shorter tracks.
However, auditioning these classic shorts and building the list became an end in itself, and exposed some really under-valued and under-played short gems amongst my iTunes library - so why not give it go yourself.
And my favourite track?
Probably the 20 seconds of Andy Partridge from XTC describing 50s, 60s, 70s and 80s music in "The History Of Rock'n'Roll", which is actually taken from the original 1980 Miniatures album.