Will virtual representations of sporting events become part of the online rights economy?
Having been in Austria at the start of the tournament, and in Greece for the conclusion, neither of which are renowned for their love of the game, following the Cricket World Cup has been somewhat problematic.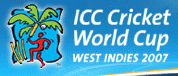 The BBC's Test Match Special podcast is available to me, but sadly the live commentary is firmly locked behind the BBC's GeoIP firewall. So I've been casting my eye around the rest of the web for coverage.
Like the BBC, the Guardian has been offering over-by-over coverage, usually with tongue-very-firmly-in-cheek, but if you want to add pictures to the written word, then the official World Cup site has streaming video of the games.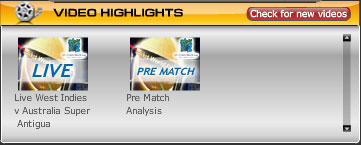 However, at 15USD per match, I haven't been tempted to try to watch it over the almighty 31.2 kbps dial-up connection I can get in my house in Crete. A season pass for the Super 8s (or Super 6½s following the unexpected exit of India and suspicious exit of Pakistan) is also available for 80USD, which represents a bit better value, but which isn't going to reach my computer at any higher speed.
You can also get the latest in play info just by putting the right search terms at Google, although whilst England are playing that can make using the search giant a dispiriting experience.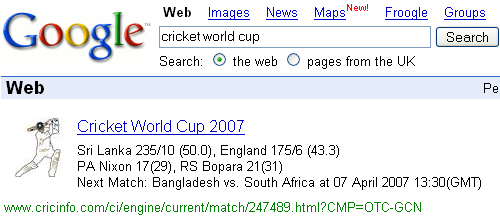 Before I left Austria and high-speed world of the corporate network though, my eye was particularly caught by the coverage from Cricinfo - who are supplying that feed to Google. They have an innovative approach to the over-by-over coverage concept.
Rather than just describing the action in near real-time, they show you, using a game engine to simulate the match being played in their Cricinfo 3D feature. As each ball in the over is bowled, a Shockwave plug-in on the web-page illustrates the action.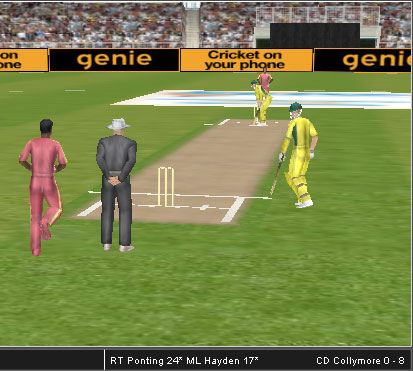 You can select the camera angle you want to view the action from, either choosing TV style coverage, a fixed position like from the stumps, or a view through the bowler or the batsman's eyes, or from the point of view of the wicket keeper.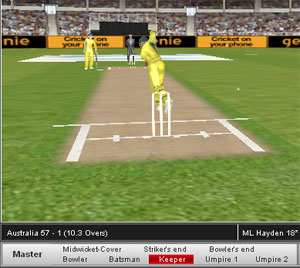 Cricket lends itself to this approach more than many other sports due to the stop/start nature of the game, and the fact that there are a predicable number of finite outcomes from a ball being bowled. Programming the action involves determining whether the bowler is left or right-handed, and bowling from over or around the wicket.
(I didn't see a Sri Lanka game depicted using this system, but I doubt they have gone so far as to mimic Lasith Malinga's extraordinarily unorthodox yet effective action).
Then there are various areas where the ball can pitch, and various broad ranges of speed that it can be bowled at. After that there is a certain repertoire of strokes available to the batsman, and then the ball can either reach the boundary in a particular zone, reach a fielder in a particular zone for a catch, or be fielded and returned to one end or the other by the player.
The outcome of any individual ball is a dot ball, extras, runs, or a wicket falling. Whist that all still adds up to an almighty number of possibilities, it isn't impossible between deliveries to choose the six or seven criteria that allow a reasonably accurate depiction of events.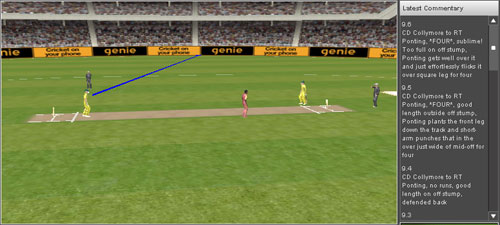 What intrigued me here is the rights issues involved. As I mention, you can't get UK based commentary online outside of the UK due to rights restrictions. I wonder whether Cricinfo have a rights arrangement with the organisers of the tournament about representing it in this way, or whether they feel that their game-based graphical representation is far removed enough from actual coverage as to not require it.
This hasn't been the case in football in the UK, where the BBC are able to provide 'virtual replays' using game technology for F.A Cup matches (whilst they still have the rights), but not for the Premiership games, even though both are shown on BBC television.
And 'virtual replays' for team games like football or rugby, where up to thirty players plus officials can be on the move at any given moment, are much harder to put together, and couldn't be turned around in near real-time with current technologies.
One assumes though, that the increasingly sophisticated representation of sports in games on consoles and on PCs will have a knock-on effect in the online rights arena. Many Olympic disciplines, Tennis and Formula One all stand out as sports where virtual near-live representations could be achieved right now. Give it a few more years, for better mapping of the physical characteristics of athletes, and this could become a real headache for people trying to charge for online live video access to sport.
If you can't be there yourself, then television or online video footage has always been the next best thing.
But if you don't want to pay a premium for that, then in the future thanks to increasingly powerful games engines, piggy-back virtual representations of sports events could become an integral part of the global internet sports rights framework.