Print versions now available for some currybetdotnet articles
Some time ago a student emailed me to say that a couple of my articles about search had been very useful to them in their studies, but to complain that there wasn't an easy way to print out entire articles from this site.
About a year later I've finally got around to producing downloadable and printable versions of the articles on the site, so if you ever fancied your own cut-out-and-keep guide to a day in the life of BBCi Search, putting a Dalek on the BBC homepage, or making your own site search engine friendly, then now is your chance.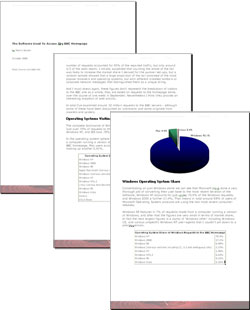 In addition, I've made print versions available of some of my lengthier sets of posts, like the recent Biased BBC series, and I've also produced a compilation of the series I wrote last year for the BBC's competition to 'reboot' their homepage design.
A couple of older blog posts that have continued to prove very popular have also got the 'print version' treatment, including my account of a tour around the BBC's archives at Windmill Road, and my trawl to find the oldest content still available on the BBC's servers.
The print versions are available in both PDF and Microsoft Word format, and a full list of the articles available can be found on the articles page.