Cypriot flag dispute at Arsenal
The relationship between Greece and the rest of the EU on one side, and Turkey on the other side, has been getting a lot of attention this week due to their inability to reach an agreement over Cyprus. Since the turmoil caused in 1974 by first the Greek backed coup on the island, followed by the Turkish invasion, relations have still not been normalised over thirty years later. Only Turkey recognises the northern part of the island as a nation in its own right, whilst the rest of the world sees it as occupied territory that belongs to a unified Republic of Cyprus. The dispute over Turkey's EU accession talks stems from their refusal to allow shipping from EU member state the Republic of Cyprus access to Turkish ports before the EU will lift a ban on exports from the northern part of the island.
Meanwhile a microcosm of the dispute has been playing out in North London, at Arsenal's new Ashburton Grove stadium. Not only did the new stadium seem to be a bit of a hex on the team's early season results, but the stadium has been accused of flying the flag of the internationally unrecognised Turkish Republic of Northern Cyprus.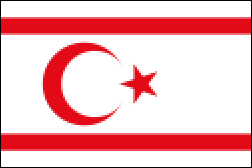 According to The Daily Frappe:
The Greek Cypriot community of London is mad, as it should be, following repeated incidents of a TRNC flag being flown from the Emirates football stadium; home to the popular club Arsenal.

The problem has been going on for a while and has caused the Greek Cypriot community in both London and Cyprus to get agitated with the team for not doing anything.
Written like that it makes it almost sound like Arsenal are flying the flag themselves. As far as I can tell it is a flag that a fan is bringing into the stadium and putting on display when they attend matches. This hasn't stopped an online petition being set up to gather the signatures of those against the flag being displayed in public.
Despite being a frequent visitor to Cyprus, and being based in Greece, I have to concur with the view that Arsenal have taken. As distastful as the sight of the flag is for both the local and wider Greek Cypriot community, having it on display itself in the UK does not break any law, and it isn't really the club's place to decide which 'national' flags can or can't be carried into the ground.
And after all, if between them, the Cypriots, Turkey, Greece, the EU and the UN haven't been able to come up with a solution to the Cyprus issue in the last 32 years, you can hardly blame Arsenal for not wanting to intervene on one side or the other.